UK crew transfer fleet operator Manor Renewable Energy has tweaked the interior design of one of its in-build vessels to allow crew and technicians to get the job done while adhering to the UK's 2m social distancing guidelines.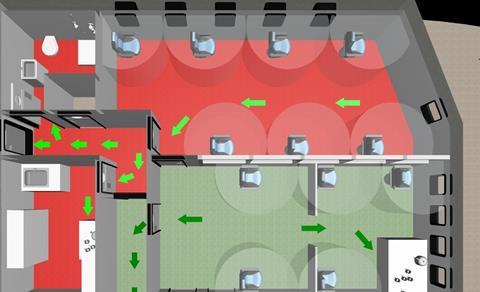 Manor Renewable Energy has been working on the challenge of social distancing and work environment safety for offshore technicians and vessel crew throughout their fleet of vessels.
MRE's newest vessel currently under construction, the Manor Endurance (due to be delivered in July 2020) was originally designed to transport 24 passengers; however, in order to meet the new social distancing requirements currently in place, the design has been amended. The updated vessel design allows 12 offshore technicians to be transported safely with the inclusion of 2 metre social distancing.
The updated seating layout for the technicians is effectively split between the port and starboard side, with 7 seats in one half and 5 in the other. Each section of the vessel is accessed from a separate dedicated entrance and has separate mess rooms, toilets and shower units, ensuring each team is isolated from the other.
By Jake Frith