Seawork International 2018 marks a defining moment for exhibitor Cox Powertrain, the British company behind the development of world's highest power density diesel outboard engine, the CXO300. The ten-year development programme is complete; the final engine concept will be revealed, and the order books will soon be open.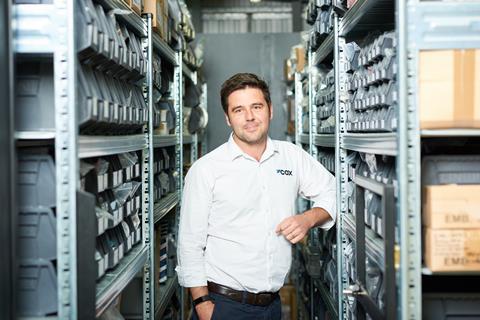 As one of the industry's most highly anticipated engines, there is no doubt that the 300hp CXO300 will be creating an almighty buzz at this year's show as the Cox team unveil the engine's final design and technical specifications at Seawork.
It's been a long but worthwhile journey so far for the West Sussex based company who has always set its sights on producing nothing less than a truly game-changing engine and iconic marine brand.
BUILDING THE BRAND
The experts behind this major engineering development know that to build and maintain trust in an iconic brand, it must be backed by a sales and service network that is quite simply better than any other. Since it last exhibited at Seawork in 2017, the team at Cox have been working tirelessly at building a solid network of distributors covering all corners of the globe.
Cox Powertrain's Global Sales Director, Joel Reid, who has been instrumental in the distributor selection, said, "Our distribution network is pivotal to the commercial success of the CXO300. I cannot emphasise enough how important it is for us to have the highest quality representation in every country and continent that we have identified as a key sales base. The prize of course will be a sales, support and service network the likes of which the marine industry has never seen."
DISTRIBUTORS READY
Cox's line-up of distributors comprises some of the world's most prominent marine engine specialists, all of whom share the same views on the scale of opportunity for such an engine and appetite within their own market.
Dan Gribble, CEO of Cox Powetrain's California based distributor, Boatswain's Lockersaid, "Customers in the commercial marine market will be the strongest adopter. They have long been looking for a high horsepower, sturdy, and reliable work horse that can meet their ever-increasing desire for more power while lowering their overall operating costs. There is no question that the Cox diesel outboard is exactly what this market has been asking for."
UK distributor, Berthon were appointed in October 2017 and will support Cox on the stand at this year's Seawork. Director, Dominic May said, ""The technology will be disruptive in the market, enabling a move from dangerous petrol to safer diesel. Berthon is committed to penetrating the UK and Irish markets to satisfy the considerable demand for diesel outboard motors in the commercial and military markets."
The President of Texan distributor, Elite Diesel, John Bowen believes it's a rare opportunity to be involved with a product whose introduction will disrupt an entire segment of an industry. He said, "A competitively sized diesel powered outboard engine has been long overdue for many applications. The CXO300 will bring new levels of safety, total cost of ownership, efficiency, reliability, and torque to a broad range of boaters in different applications. Market interest has been strong in commercial, law enforcement, and military communities, each knowing the CXO300 will add value to their boating needs and experience."
In Australia, distributor Power Equipment also believes the launch of the CXO300 will shake the marine market. General Manager, Luke Foster said, "We believe the launch of the CXO300 gives us a strong position to lead the diesel outboard market in Australia because it has been developed to suit the demanding requirements of commercial operators and military vessels as a dedicated diesel engine, unlike some existing engines in the market that have been modified to accept diesel fuel."
The CXO300 is the highest power density diesel outboard engine ever developed. With petrol no longer permitted on an increasing number of vessels, the introduction of a viable diesel outboard that offers a comparable power and weight of a gasoline engine will be transformational for the commercial workboat market. It offers significantly lower running costs than its gasoline equivalent, longer service intervals and an expected lifecycle three times longer than a gasoline outboard.
Visit Cox Powertrain at Seawork International 2018 on Stand PY65.