Crowley Engineering Services is addressing future challenges head on with the design of the first fully-electric US tug with autonomous technology.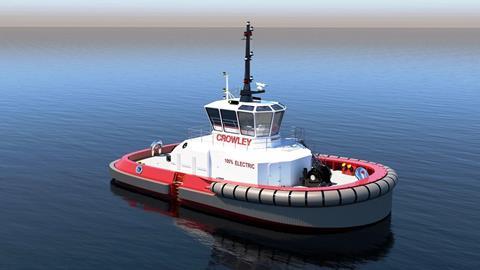 Tug owners considering new tonnage have complex questions to consider. Should it be powered by so called alternative fuels? Does the operating profile allow, or even demand hybrid operation? Should it be future-proofed for remote-control or even autonomous operation? Crowley's basic design appears to provide the flexibility for whatever the customer, or even legislation will require in the future.
Along with recently integrated Jensen Maritime, Crowley has produced a design based around a 70 tons bollard pull ASD tug, 24.9m in length featuring azimuth thrusters powered by two 1,800kW motors and a 6MWh battery. It can be customised to meet specific requirements with alternative power capacities suitable for standard hybrid arrangement if desired. The fully modular batteries can be upgraded as technology changes and in parallel Crowley has developed an onshore charging station allowing reliability at the tug's home port.
It is designed with future autonomous operation in mind including integrated automation and control systems while not losing sight of existing safety and efficiency requirements, Crowley stating: 'The intelligent manoeuvring and control systems offer more efficient vessel operations and allows the master to focus holistically on the overall control and positioning of the vessel in increasingly busy harbours.' Additional data includes speed 12kn, fresh water capacity 1,703 litres and accommodation including berths for four persons.
Sized and designed 'to complete two ship assist jobs in the harbour with minimal to no charging required' deck arrangements include 40hp electric render/recovery winches forward and aft with power saving technology allowing operation in a fully electric mode with zero emissions. Two small generators are included for emergency use and to enable transits of longer distances at reduced speed. The ABS-classed tug, to be named eWolf will be built by Master Boat Builders in Coden, Ala, and be compliant with USCG Sub-Chapter M regulations.
Ray Martus, vice president, Crowley Engineering Services states: "Crowley's design provides operators with the tugboat solution to continue serving ships quickly and powerfully, while reducing their environmental impact by eliminating a carbon footprint." Adding: "This new design sets the standard for innovation by showing that sustainability and power can work together seamlessly in our maritime industries."
By Peter Barker