A new UK cruise terminal fitted with shore power has served its first ship.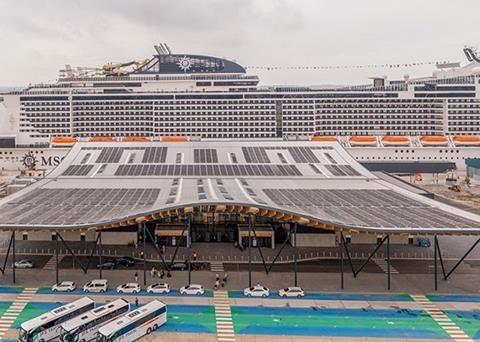 ABP Port of Southampton's Horizon Cruise Terminal berthed MSC Cruises' MSC Virtuosa on 3 July, ahead of its formal opening later in the year. The first ship to welcome passengers at the terminal, the vessel is fitted with shore power connectivity and will be able to 'plug in' once the terminal's shore power is commissioned later this year.
Alastair Welch, director of ABP Southampton, said: "We're incredibly proud to be building the infrastructure for the future of cruise with a commitment to sustainable operations."
Solar power
The GB£55m terminal is fitted with more than 2,000 roof-mounted solar panels, which means that on a day-to-day basis it will generate more power than it uses.
Hampshire-based Brymor Construction was the main contractor for the two-floor terminal, which has been designed to accommodate larger cruise ships and allow more than 6,000 passengers to disembark and embark in a single day.
Last year, ABP announced the multi-user terminal in partnership with MSC Cruises and Norwegian Cruise Line Holdings Ltd.
Horizon Cruise Terminal is in the Port of Southampton's Western Docks, inside Dock Gate 10.
The construction of the terminal has received support from the Solent LEP and the UK Government's Getting Building Programme.
By Rebecca Jeffrey