A trio of cruise ships from Fred Olsen dominated end-of-year repair, class and and overhaul activity at Hamburg's Blohm + Voss Shipyard, writes Tom Todd.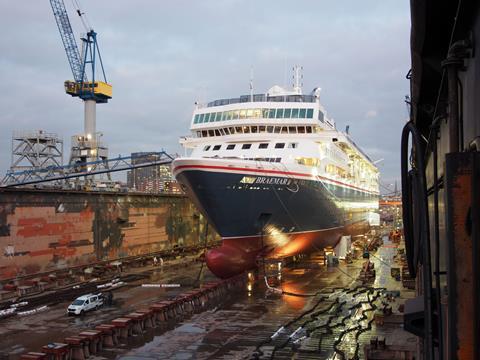 Completing the Olsen Cruise Line visits, each lasting about a week, was the 28,613gt Black Watch – booked to dock a day after the 43,537gt Balmoral, the biggest of this year's trio.The smallest, the 24,344gt Braemar, called earlier.
All three are regular annual visitors to the giant German shipyard and underwent "multi million pound" engineering, maintenance and refurbishment work this time. The ships are popular with European customers despite - or perhaps simply because of - their age and relatively small size compared to today's cruise newbuildings, and are among the most frequent annual repair, overhaul and refurbishment visitors to Blohm + Voss.
The 47 year old, 205.47m Black Watch underwent maintenance and class work, blasting and repainting and tail shaft and rudder work. Electric motors were overhauled and engine room electrical equipment was repaired. Stabilisers, thrusters and valves were overhauled and unidentified work was carried out on the ship's hull. Finally, steel works were on the docket along with tank inspection, Blohm + Voss reported.
The 217m long Balmoral, which entered service in 1988, docked this time at B+V for five year class renewal as well as general repair, maintenance and refurbishment and upgrade work. Other work listed by the Hamburg yard included hull blasting and painting, tail-shaft and rudder works, the overhaul of electric motors, thrusters and valves as well as engine maintenance. Tanks were inspected and steel work carried out. In addition, general superstructure steel and pipe repairs were part of the scope of work along with lifeboat maintenance and the upgrading of fire-screen doors.
The youngest of the three cruise ships, the 26 year old Braemar also underwent five-year class renewal and its scope of work also covered hull blasting and painting, tail-shaft and rudder works as well as engine overhaul. What was billed as complete rudder and shaft "reconditioning" was also carried out. Piping was renewed, valves overhauled and maintenance carried out on the ship's propulsion system. Steel works on the tank tops, tank inspection, steel repairs, lifeboat maintenance and the renewal of an AC air supply duct completed the long list, according to the Hamburg yard.