CTruk has reached a milestone on the construction of a new survey catamaran for the Port of London Authority (PLA), with hull structures laid and undergoing first stage fit out.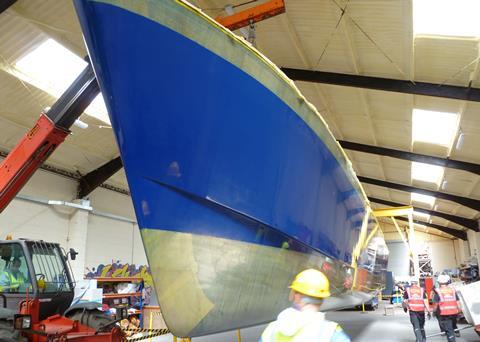 The two hulls of the 17m vessel were removed from the mould after several weeks of lay-up work and are now undergoing first stage fit out with fuel tank and ballast tank bulkheads at the company's River Colne facility in Colchester, while the deck is moulded at its Brightlingsea facility. The next stage will see the deck fitted to the hulls before the wheelhouse is added.
"The build is progressing well and we released both hulls on the same day," said Sebastian Shillaker, production manager. "We are now busy working on the deck and the mould has been prepared for the wheelhouse as we continue towards hand-over before year end."
The CTruk vessel has a low draught for shallow water access and a low air draught so it can get under Thames bridges with ease. The boat can accommodate up to 12 people and is water jet propelled for low draught.
By Rachael Doyle