Carson RIBs and CTruk, with sister company, Alnmaritec recently announced a newly formed collaboration.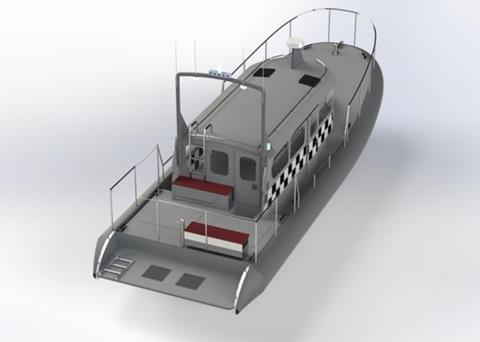 CTruk are expanding their production to build a range of RIBs for commercial, military and leisure customers with designs ranging from 4.5m to 15m. Branded 'Carson-CTruk', the new RIBs are available in either vacuum infused composite or aluminium construction.
The range includes open deck models, cabin variants and full wheelhouses. Carson RIBs occupies a niche sector in the market, they have been widely used in the commercial and military sectors in over twenty countries worldwide. With operations from the Arctic to the Antarctic, Carsons have been used for diving, rescue, military, paramilitary, commercial & environmental operations to name but a few with many leisure enthusiasts also enjoying the benefits of ownership. Most models are capable of speeds exceeding 50kts and thanks to class leading high payload can also provide long-range capabilities. Carson RIBs are renowned for their innovative design features, exceptional strength, seakeeping, dry ride and good handling characteristics.
CTruk's global success in the offshore sector spanning decades has been based on an innovative approach to design and build. It follows their quest for continuous improvement and for pioneering solutions tailored specifically to the challenges of its clients. The infused composite hull RIBs are being built at CTruk's 5-acre state of the art facilities in Colchester and the aluminium hull RIBs at CTruk's sister company Alnmaritec. With their extensive facilities and highly skilled workforce CTruk have the capacity to build high volume numbers of RIBs to any size with completed vessels qualified to ISO 9001:2015 Certification, IACS (Lloyds/BV etc.), MOD, CE Certification or MCA Coding. All RIBs are constructed using modern infusion methods in accordance with the latest Bureau Veritas regulations with "Green" laminates to the latest IACS approved Sicomin InfuGreen Bio-Epoxy infusion resin and ArmaForm PET foam cores which are made of 100% recycled PET. This infused sandwich construction is lighter and stronger than traditional hand lay-up.
Standard inflatable tubes use construction methods pioneered by Carson in the 1980s and now adopted by many military forces. Mechanically fastened to the hull, they are radio frequency welded (RF) using tough polyurethane fabrics (PU) with an added outer protective skin also of PU for maximum abrasion resistance, reliability and longevity. Other tube materials can be specified including foam filled, also pioneered by Carson since the 1980s.
By Jake Frith