Cummins Inc has reported news on its provision of power sources for a recently launched tractor tug and a multiple order of articulated tug-barge units for Canadian and US owners respectively.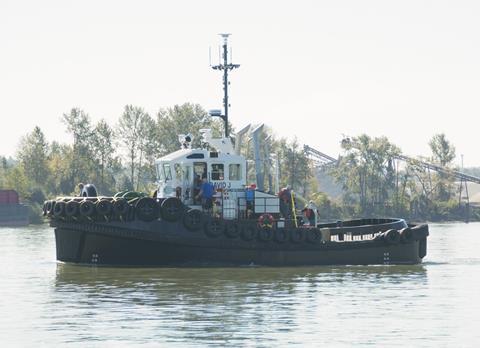 Cummins is a global source of power generation whose products are regularly specified for tugs built and operated in Europe. While its facilities in Europe include locations in: the UK, Ireland, Germany, France and The Netherlands the first reference we consider concerns delivery of the tractor tug David J to Jones Marine Group of Chermainus BC.
'Steady, smooth and highly manoeuvrable' were comments from mariners who accompanied trials of this sturdy and workmanlike tug from the yard of Sylte Marine of Maple Ridge. The vessel was designed by A.G. McIlwain Ltd and at 53ft long by 26.5ft wide and with a moulded depth of 14ft is described as offering remarkable stability with the length allowing it to work in tight spaces.
Company president Daryl R. Jones describes the arrangements for integrating the new tug into its fleet stating: 'A new breed for us, so we have brought in Don Westmoreland, a retired captain who has operated Z-drives in the port of Vancouver. He will be training my crew.'
Jones Marine Group's existing fleet of nine tugs are all conventional drive and the choice of a Z-drive tug was driven by the increase in the size of ships on Vancouver Island and the pilots being accustomed to such tugs elsewhere locally.
Power for David J is provided by two IMO Tier II compliant Cummins KTA38-M2 main engines each delivering 1,200hp at 1,800rpm through carbon-fibre shafts to a pair of Rolls-Royce Marine US 155 P14 Z-drives with fixed-pitch propellers in nozzles. Vibration and noise throughout the vessel are isolated with the soft-mounted engines and carbon-fibre shafts.
US maritime services provider Vane Brothers Company provides the second reference for Cummins with an order for three articulated tug-barge (ATB) units featuring Tier III compliant main engines. Vane Brothers operate over 50 tugs and 75 barges including two ATB units and it is expanding this area of operation with the latest trio, to be built at Conrad Orange Shipyard in Orange, Texas.
The tugs will be designed by Castelman Marine and mated with two newbuild 80,000 barrel barges, the 110ft long by 38ft beam vessels will be classed by ABS. First of class, to be named Assateague is due in August 2017 and will be powered by two Cummins QSK-60M engines each rated at 2,200hp. Reintjes WAF 873 gearboxes will connect to four-bladed propellers and the installation includes two Cummins-powered 125kW generators along with a 60kW emergency generator.
Each unit will utilise a Beacon-Finland JAK 700 tug/barge coupling system with personnel access to the barge via a Schoelhorn-Albrecht custom gangway system.
By Peter Barker