Cuxhaven's historic Alter Fischereihafen has been sold by German port authorities to local developers who expect to invest €100 million and turn it into a centre for tourists and cruise ship visitors.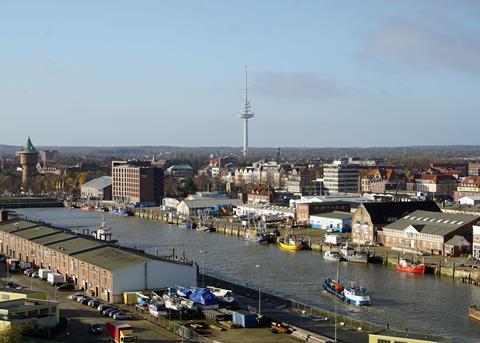 The site was sold by Lower Saxony Ports (NPorts) to Cuxhaven-based Plambeck Holding on January 1st. It comprises 57,600 m2 of land, about 5,000m2 of water area, 1200m of run-down quays and 13 buildings. First offered for sale by NPorts about a year ago the sale attracted a reported 19 bidders.
Once a major fish-landing and processing centre bordering on the city centre, the Alter Fischereihafen today plays only a small role in port handling in Cuxhaven,which is located on the Elbe Estuary downstream from Hamburg. Handling is now centred on busy offshore, RoRo and container facilities on the nearby Elbe.
The sale is conditional on Plambeck Holding renovating the quays. Plambeck Executive Board Chairman Norbert Plambeck told Maritime Journal "we expect the construction costs involved in renovating the quay walls to total €25 million".
An important aim, he said, was to create a "gateway to the world via Cuxhaven, starting with the Alter Fischereihafen and turn the old harbour into an access facility from the Elbe … offering attractive deals to cruise ship visitors". Along with upmarket hotels and B&B facilities, restaurants, offices and retail outlets were planned with cycling tours one specialist niche and with "appealing buildings and a wide range of events to attract visitors from far and wide".
"We estimate the overall investment will total €100 million", Plambeck told this correspondent. He said it had been agreed not to reveal the price paid for the Alter Fischereihafen site. However German media reports put that at a low €1 million.
NPorts said Plambek had come up with an innovative redevelopment concept. An underground parking facility will be built along almost the entire length of the current quayside and incorporate the existing quay walls. For 700 vehicles and 17-18m wide it will be built on a new sheet pile wall and deep-set pilings and parking fees will help pay for the investment .To facilitate the new structure, NPorts has also sold a 4m wide water strip to Plambeck with the quays.
Some existing quayside shipping functions will still remain on the Alter Fischereihafen. On the Nordseekai a quay about 400m long with power and unloading facilities will still be available for the port's traditional crab cutters. The pontoon berth at the Meinkenkai will also remain for local police boats and berths will be made available for the port's small offshore crew transfer and supply vessels.
Construction of the re-developed Alter Fischereihafen is due to begin in 2018/19 and will be completed by the end of 2023.
By Tom Todd