Continuing busy times at Damen Shipyards are seeing orders, deliveries and christenings for tugs in Europe, the Middle East, Chile, South Africa and Peru.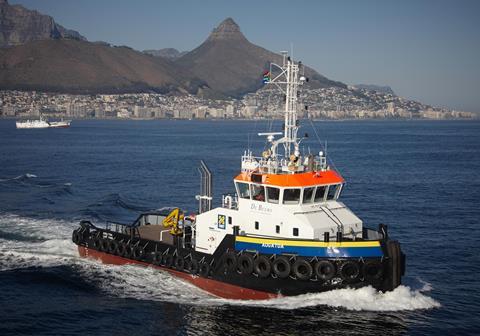 No fewer than four ASD Tug 2411s have been delivered to owners in northern Europe and Chile this time round along with a Shoalbuster 2609 for Abu Dhabi Ports. Naming ceremonies have taken place for a Shoalbuster 3009 built in South Africa, along with two ASD Tug 3212s in the Netherlands and orders placed for two ASD Tug 2810s bound for Peru and France.
Starting in Germany and as mentioned briefly in last month's TOWLINES it is a significant year for German towage provider Bugsier Reederei celebrating its 150th anniversary with delivery of the ASD Tug 2411 Bugsier 22. The vessel, Bugsier's first Damen tug was built by the Gorinchem-based company's Sharjah shipyard which recently won the Best New Build Yard award at the International Maritime Awards held at the Shiptek 2016 conference in Dubai.
Power to length ratio of Bugsier 22 is worthy of mention which at 70tbp on a length of 24.47m makes it particularly suitable for operation in restricted port areas including Hamburg. Two Caterpillar 3516C main engines develop 4,200bkW (5,632bhp) in total, driving Rolls-Royce US255 thrusters. Towing is carried out over the bow via a split-drum combined anchor/towing winch and accommodation is provided on Bugsier 22 for up to four persons in two single and two double cabins.
Still in Germany, URAG has an interesting history tracing its roots back to 1890 and has taken delivery of the second ASD Tug 2411 reported here, carrying the name Rasant. Details of the DNV-GL classed tug's main machinery are similar to Bugsier 22 with a bollard pull of 70 tons and speed 13.3kn, the tug is also equipped to tow over the bow and has accommodation for four persons.
Concluding the ASD Tug 2411 deliveries, two examples which were already in build at Damen's Song Thu Shipyard in Vietnam have been delivered to SAAM S.A. Chile. Once fully commissioned, Tordo and Mirlo (named after Chilean birds) will carry out harbour operations in the port of San Antonio. Once again the 24m LOA tugs have a bollard pull of 70 tons.
Two Shoalbusters have been delivered during this period by Damen. Firstly, Aogatoa is the second of two Shoalbuster 3009s for SMIT Amandla Marine South Africa. Vessel number one, Aukwatowa was delivered in December 2015, both products of Damen Shipyards Cape Town with the end client being De Beers Group Services. The vessel will carry out supply and support duties from Port Nolloth in the Northern Cape for De Beers Group's offshore diamond mining activities.
Selection of a Shoalbuster was particularly important with shallow waters in the port restricting the draught of vessels to 2.8m or less. Aogatoa has a bollard pull of 24.5t and is equipped with a 1.7t lift crane making it suitable for buoy-laying as well as the usual general towage and support duties.
The second Shoalbuster delivery concerns the 2609 marque Maqtaa to SAFEEN, a subsidiary of Abu Dhabi Ports (formerly known as Abu Dhabi Marine Services). The requirement was for a multipurpose vessel capable of a number of roles including: towing, mooring, pushing, anchor-handling, dredge support and supply duties. To this end the vessel is equipped with: a 15t crane, A-frame, two buoy chain stoppers and three wire drum winches for towing. SAFEEN is responsible for maintenance of almost 1,200 beacons and buoys in the Emirate.
NAMINGS AND ORDERS
MJ has also previously reported on progress with the ordering and delivery of Multraship's two new Damen ASD 3212 tugs Multratug 29 and Multratug 30. The two 82tbp vessels were built at Damen's Vietnam shipyard and are now fully integrated into Multraship's fleet following their christening ceremony. The naming was carried out by Mrs Rita de Ruijter-Ribbens and Mrs Els Otten-Muller at Multraship's home port in the picturesque harbour at Terneuzen where the general public were able to watch proceedings along with invited guests. Multratug 29 and Multratug 30 will target the company's growing demand in both the harbour towage and offshore energy sectors along with emergency response services when required.
The final two stories to report concern the ordering of two ASD 2810 tugs for owners in Peru and France. The first is for Ian Taylor Peru, the Peruvian subsidiary of the Chilean Empressa Taylor group who are concluding negotiations for the ordering of a second identical vessel. The tug is another product from Damen's Vietnam facility and will be powered by MTU main engines in line with the majority of the owner's tug fleet. It will also be equipped for fire-fighting duties and operate in the Port of Callao.
Finally, when The Port of Caen/Chamber of Commerce & Industry Caen Normandy (Chambre de Commerce et d'industrie de Caen Normandie) decided to replace its 40 year-old tug at Cherbourg it was announced that Damen was to supply an ASD 2810 to be named Cherbourg 1.
As well as providing the opportunity to acquire a more powerful replacement, the new tug will also be required to carry out a variety of tasks including offshore work. A number of modifications have been specified including an aft deck double-drum winch, towing pins, stern roller and cargo rails for carrying out duties including anchor-handling and buoy deployment. The 60tbp tug will be powered by Caterpillar main engines and the contract includes provision of training for the predominantly French crew of the French-flagged vessel.
By Peter Barker