Damen has signed a contract with the International Organisation for Migration (IOM) in Ankara, Turkey for the supply of six Search and Rescue (SAR) vessels.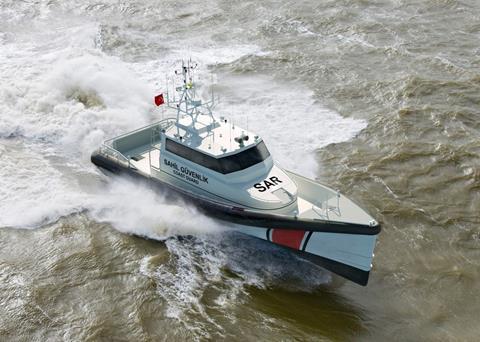 Set for delivery in 2017, the boats will be operated by the Turkish Coastguard (TURCG) to support the refugees and migrant rescue options.
The Damen SAR 1906 will be financed by the European and is the result of a five-year R&D programme initiated by Damen in partnership with the Royal Netherlands Sea Rescue Institution, Delft University of Technology and De Vries Lentsch Naval Architects.
"These boats will be built in Turkey for Turkey. They will be built at Damen's Turkish Shipyard in Antalya (DSA) where we have all the facilities necessary to fabricate both the composite superstructures and the aluminium hulls," explained Boran Bekbulat of Damen.
He added: "Damen and its SAR 1906 were selected to fulfil the Turkish Coastguard's need for new SAR vessels based on its innovative design and its ability to deliver them within a short time frame."
"We already had vessels under construction in our production line which allows us to deliver the first two boats in the first half of 2017."
The SAR 1906 is an all-weather vessel with an aluminium hull and a composite wheelhouse. Its hull design is based on Damen's Axe Bow technology, adapted for the specific operations of rescue boats. It has a top speed of 33+ knots.
It will be deployed by the TURCG along Turkey's coast line to give assistance to those fleeing nearby conflict zones, the SAR can carry up to 120 survivors at one time.
Mr Bekbulat concluded: "Moreover, our people in Antalya are committed to beating the challenging delivery times, realising the importance of the SAR boats' mission."
"Having a good cooperation with all involved parties in the lead of IOM, we are all proud of taking a part in the EU's project for TURCG."
By Alice Mason