Dutch towage provider Van Wijngaarden Marine Services BV has now taken delivery of what is the largest Damen Shoalbuster to date, the 3512 marque 'Noordstroom'.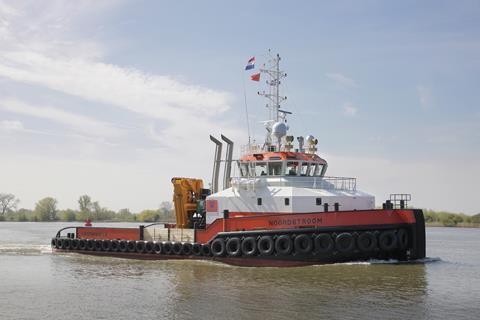 Work on designing Noordstroom started at Damen's Hardinxveld facility back in February 2015 and Tugs & Towing has been reporting progress since. Final delivery and naming therefore brings to fruition a project which has produced a versatile and capable vessel with special provision made to keep the draught to a minimum for what is a substantial vessel of 35m length, 12m beam and 56tbp with a resultant minimum draught aft of just 2.9m.
Noordstroom was named by Mrs Elske de Bruijn-de Vries, wife of Mr C.A. (Niels) de Bruijn a member of the executive board of Van Oord and just three weeks later the vessel embarked on its first commercial tow of the pump station Sauger III from Giessendam-Hardinxveld.
Versatility was an important requirement for the vessel which had to be capable of long-distance towing while at the same time have the ability to operate in shallow waters, for example supporting dredging operations. It can be fitted with a range of auxiliary modules when required including: a 50-tonne A-frame and plough for seabed levelling, a four-point mooring system, an ROV platform and a diving operations platform. In a sign of the evolving markets for such vessels, operations supporting offshore windfarms is also on its list of potential employment opportunities.
Basic functions of Noordstroom are: towing, pushing, mooring, anchor-handling, dredge support and ocean going capability and it is built to BV class with the notation: 1+HULL, MACH Tug Unrestricted navigation, AUT UMS. Tank capacities include 255m3 of fuel oil and 25m3 fresh water
Of particular interest is the main machinery and propulsion installation consisting of three fixed-pitch propellers in V.d. Giessen Optima nozzles driven by Caterpillar C32-TTA ACERT engines producing in total 2,910bkW (3,957bhp) via Reintjes gearboxes. An electrically driven Kalkman Beta bow thruster is also included along with two Caterpillar C7.1 gensets.
A Kraaijeveld anchor-handling/towing winch conforming to Noble Denton regulations is fitted aft with a maximum pull of 101t and brake load 150t, the towing drum holding 1000m of 48mm wire. Deck machinery also includes a Heila HLRM230-4SL crane (24t at 7.89m), a Dromec HPV-12000 tugger winch and a WK 2 flipper chain stopper towing pin set.
The size of Noordstroom allows for a very spacious accommodation arrangement. Heated and air-conditioned living space is provided for eleven persons comprising a captain's cabin along with four double and two single berth crew cabins. Nautical and communication equipment is as to be expected comprehensive and complies to GMDSS area A3 with Furuno featuring extensively in the list of suppliers of the wheelhouse electronics fit.
By Peter Barker