A Danish company has developed a Leakage Alarm System, which is aimed at preventing engine room fires from starting writes Dag Pike.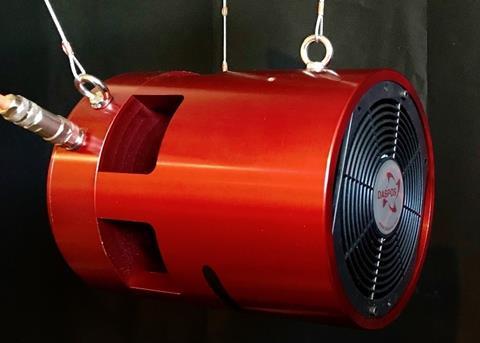 This new prevention system from Daspos is an atmospheric oil mist and hydrocarbon detection system for the open engine room. A fire in the engine room typically originates from a failure in the fuel system, which is then followed by leaking oil coming into contact with a hot surface. The Daspos is designed to identify the oil mist from the leak before it catches fire.
The Leakage Alarm System, the LAS-10, is based on a very large amount of air flow, up to 10,000 litres per minute which is taken through a detection chamber and a specially designed filter. The electronics in the detector combines and analyses simultaneously the content of both gasses and oil sprays. A sudden increase in differential pressure over the installed filter gives a signal to the crew about the increased dangerous situation that is developing in the engine room environment.
Daspos claims that no other solution on the market combines these two detection methods or even uses differential pressure as an indicator to detect the fire and explosion risk. Moreover, the large air flow provides a much quicker indicator for potential risk than previously seen with other detection systems, that tend to detect by light reflection or from taking just small samples of the of the analysed air flowing through the detector.
Daspos has also developed a new detector that has been specially designed for the hot boxes covering the high-pressure fuel systems. The Hot-Box Detector H-18 was designed for installation in engine hot boxes, with a quick release adaptor. This unit is designed for smaller compartments in order to detect risks caused by fuel leakages at the earliest possible state of detection to allow time to react to the problem.
The Hot-Box Detector H-18 sensor can operate in areas with temperatures reaching up to 200°C. The detector is easy to install, it is not affected by unintended human interference, and it does not require light in order to operate.