Tuco Marine Group of Denmark has signed a new order for a third 11m Wind Farm Service Boat from the ProZero series of fast rescue boats, daughter crafts and workboats.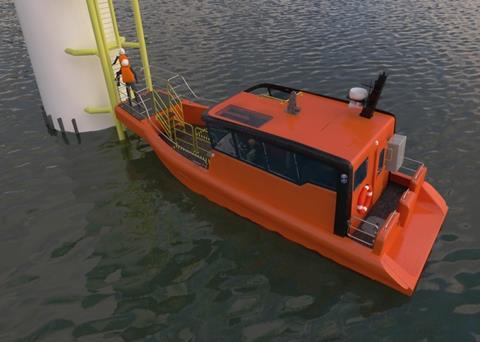 The order is from a major, but for now undisclosed, company in the European offshore market. These vessels have been designed specifically to the far offshore wind farm market as a daughter craft to the SOVs that are to enter this market during the coming seasons.
Tuco says the boat has been developed in close collaboration with experts in wind farm services and the main market charterers, who have been deeply involved in the developments, to meet the latest requirements of the park operators.
The 11m boat is constructed to be lifted on and off larger mother vessels using a single point davit system and the ProZero 11m Wind Farm Service Boat can be outfitted with hook systems of the owner's choice.
When designing the Wind Farm Service Boat, passenger transportation and safe cargo handling has been a high priority for Tuco Marine in the work to meet the requirements of the far offshore farms on deep waters. These farms are situated so far offshore that daily travel to and off shore is not possible and technicians are therefore accommodated on larger mother vessels (SOVs) or on accommodation platforms. This requires stable daughter crafts that are capable of transporting personel and cargo, from the accommodation units to and from the turbines and all these detailed scopes and requirements have carefully been investigated by Tuco Marine and several industry partners to develop an 'Operational Circle Tool'.
The vessel is constructed from carbon fibre composites due to the industry's focus on weight and fuel efficiency. The low weight means the craft can be carried aboard vessels and structures that could otherwise only carry smaller daughtercraft.
The vessel features twin waterjet installation fitted to inboard diesel engines, and operates at a service speed above 22 kts, transporting 8 passengers and 500 kilos of cargo on the foredeck.
By Jake Frith