Finland-headquartered Boomeranger Boats will supply sea boats for the Royal Australian Navy's SEA1180 Phase 1 Offshore Patrol Vessel (OPV) program.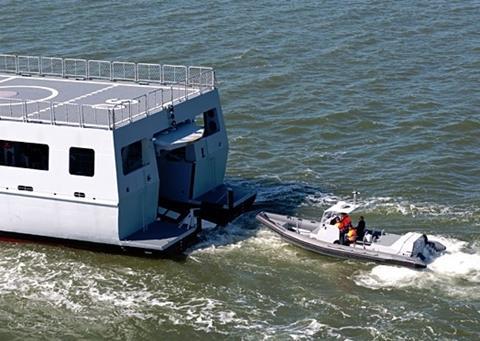 The Commonwealth of Australia has signed a contract with Boomeranger Boats to supply the sea boats for the Arafura Class OPVs. Under the contract Boomeranger will deliver two davit launched 8.5 metre Fast Rescue Boats and one 10.5 metre ramp-launched Special Operations Boat for each of the OPVs.
The boats are Rigid Hull Inflatable Boats with inboard engines. In total the contract comprises 41 RHIBs to be delivered over a period of 10 years. The first delivery of sea boats will arrive to support acceptance of the first OPV in 2021. As the primary role of the OPV will be to undertake constabulary missions, maritime patrol and response duties, the sea boats are a significant weapon system for the capability. Both of the sea boats models are existing designs from earlier projects delivered by Boomeranger.
The 10.5 metre sea boat is an enhanced variant of the Boomeranger ramp-launched RHIB of the original Luerssen OPV delivered to the Royal Brunei Navy.
By Jake Frith