Hybrid power pioneer The Switch has delivered its first ever DC-Hub to Wightlink in the UK for installation into its flagship newbuild diesel electric hybrid ferry.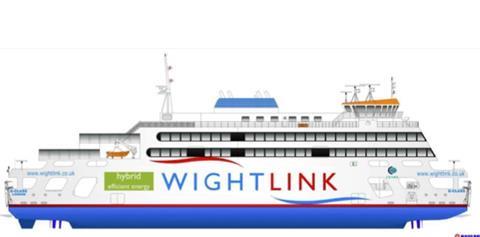 The Finland-headquartered business, part of the EUR 3.3 billion turnover Yaskawa Electric Corporation (Japan), says the revolutionary technology will deliver significant benefits related to fuel, cost and environmental compatibility, making it a preferred solution for future-focused shipowners.
In November last year, The Switch purchased Wärtsilä Drives in Norway, further strengthening its marine ambitions by acquiring technology, and a team, with a proven record of market success. Developed on the foundation of the firm's established Power Drive solution, the new DC-Hub is a landmark for the business, according to Asbjørn Halsebakke, General Manager, The Switch Marine Drives Norway.
"We believe this is the future of shipping," Halsebakke notes. "The DC-Hub is simple, reliable, robust and very cost effective. It allows vessel generators to run at optimal efficiency, with batteries taking the strain of any necessary load changes. This significantly reduces fuel consumption – and therefore operational cost and environmental impact. The DC nature of the system also allows batteries to be utilized as standby power sources, meaning generators can be turned off entirely. Less running time means less maintenance, as well as less fuel consumption.
"What's more," he continues, "any potential power source – such as wind generators, fuel cells or solar panels – can be easily connected to DC. So by eliminating the need for AC switchboards, we create a simpler, tailor-made system for more compliant, cost-effective and environmentally friendly operation, today and tomorrow."
The current delivery will be installed by Wärtsilä on the 90m newbuild vessel at the Cemre shipyard in Yalova, Turkey. The craft boasts a capacity for 178 cars and more than 1,200 passengers. It is part of Wightlink's GBP 45 million 'Investing for the Future' program, which is scheduled to begin operation in the Solent in the summer of 2018.
Halsebakke says the project effectively fires the starting gun on a new wave of development for his Stord, Norway-based operation.
The Switch originally made its name in the wind farm sector before moving into marine almost five years ago. In wind, The Switch is a preferred industry supplier, providing permanent magnet generators and full-power converters to wind turbines worldwide. In total, the firm boasts an installed capacity in excess of 13 GW.
The Switch, which has already received over 30 marine orders for its revolutionary permanent magnet shaft generator technology, believes its solutions can provide the same transformational benefits for shipping as they have for the wind industry.
By Jake Frith