DeBatts RRIB, based in Somerset, UK, first established with the aim of producing an inflatable boat that could outperform the various options available to the military market.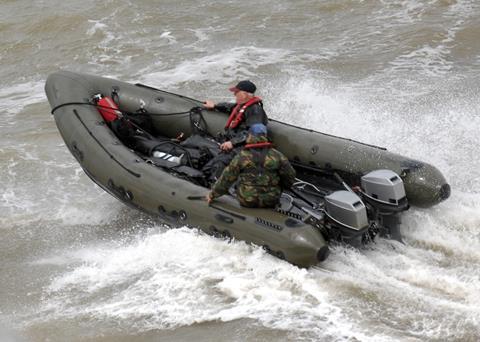 The boat is now manufactured by Henshaw in Wincanton and is in use with three NATO members' military forces, with Norway being the first nation to purchase both the 5.20m and the 4.40m models.
DeBatts' 5.30m model has also been purchased by Holland and is already in service. While the boats are currently on trial in the USA with the USMC and other interested arms of the US military services.
The boats are designed for users who wish to be able to operate offshore with long transits and to arrive in a fit state to conduct their tasks.
Its construction aims to dramatically reduce vertical acceleration shock load readings commonly found in other inflatables and hard hulled RIBs.
Boats heavily loaded with a cargo of 4400 lbs (2045 Kg) can transit on the plane at faster speeds and in higher sea states than other inflatables, and the craft aims to be able to achieve over 20 knots with six passengers and their kit.
The design incorporates fast inflation via two air cylinders and has a fast dump valve system, with the transom being the only non-inflatable section but capable of carrying either twin 30 HP OBM or a 50 HP Multifuel.
The 4.40m is a commercial variant more suitable for use as a tender as, rolled up, it will fit into most of the larger yachts' garages or stowage areas.
By Alice Mason