A proposed UK-based diving and underwater research tank named 'Blue Abyss' has been selected as one of the nominees in the 'New directions' category for the Enterprise Europe Network Awards.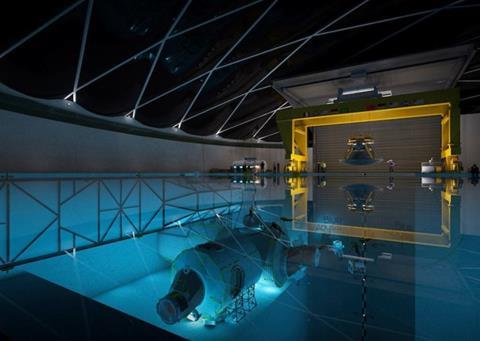 These prestigious European awards recognise small and medium-sized enterprises (SMEs) which have taken advantage of the services and support of the Enterprise Europe Network, which claims to be the world's largest support network for SMEs with international ambitions. Composed of 3000 experts across 600 member organisations in more than 60 countries, the Network helps SMEs grow faster through tailored support, new commercial partnerships and access to finance.
After serving in the British Army for eight years and qualifying as a diving instructor, John Vickers worked in management consultancy but the idea of developing an ocean-related business never really faded:
"I took the decision together with my family to pursue this idea that I had to develop the world's first commercial astronaut training centre and the world's biggest research and development pool," recalls John, managing director of Blue Abyss.
The proposed 50m deep pool at the University of Essex will be used for recreational and advanced commercial diving and human spaceflight training, providing space scientists a unique analogue to study how the body changes in a weightless environment.
The facility will cater for human physiology researchers too, by helping them study the effects of the marine and space environments on the human body. Wanting Blue Abyss to become a global facility, John has been in discussions with international space agencies and other foreign authorities regarding the pool, as currently astronauts use facilities in Germany, Russia or the US.
Struggling to find clear information and advice on how to access finance and attract investment, John turned to his local Enterprise Europe Network members St John's Innovation Centre and Exemplas Holdings based in the east of England. The world's largest support network for small and medium-sized businesses (SMEs) with international ambitions put Blue Abyss in contact with a business coach while also introducing the company to different funding streams and business advice programmes, including the Growth Accelerator programme.
We were able to use all resources within the Network and talked to colleagues in different countries, including the Netherlands, France, Norway, Ireland, Greece and Germany, to support Blue Abyss proposals – in particular undertaking European-wide market research on commercial diving markets and applications in gas and nuclear areas, said Heather Benham, innovation advisor at Enterprise Europe Network in the East of England.
This research helped support their bids for funding and it underpinned all the presentations that they made.
The construction of the Blue Abyss facility is expected to start early 2017 and last for 18 months. Built at the University of Essex' Knowledge Gateway Innovation Park in Colchester, the centre will include a multi-level pool, the Kuehnegger Human Performance Centre, hyper and hypobaric chambers, a Microgravity Suite and a 120-bed hotel to accommodate visitors.
In addition to scientists and researchers, Blue Abyss hopes to attract the attention of governments and commercial organisations working in the commercial diving, Remote Operated Vehicle (ROV) and human spaceflight markets.
The winners of the Enterprise Europe Network Awards will be announced on 14 November during a ceremony in Bratislava, Slovakia.
By Jake Frith