Port Louis, Mauritius-based Deep Ocean Search Ltd (DOS) has provided details of its part in the search for EgyptAir flight MS804, the Airbus A320 which disappeared over the eastern Mediterranean in May.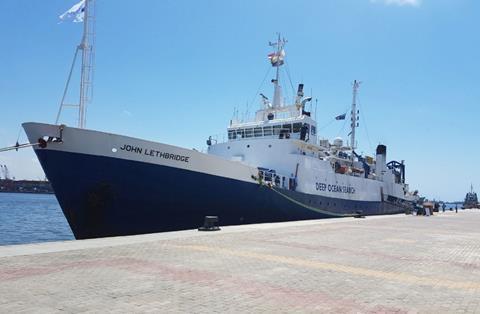 Marine salvage and wreck removal activities are generally associated with recovery of ships and other similar marine structures. Far too often in recent years however, the expertise of those who normally deal with less tragic incidents in human terms, has been called upon to search for wreckage following the disappearance of aircraft while transiting over water.
Perhaps most famous example of the maritime world's involvement in recovery of crashed aircraft was in the early 1950s when three of the world's first commercial jet airliner, the de Havilland Comet broke up during mid-flight. It became imperative to recover wreckage of one that crashed into the sea in the eastern Mediterranean and local fishing vessels were engaged in trawling the seabed for wreckage. The vital piece of evidence was eventually recovered but not before the trawler skippers, were flown to Farnborough in the UK to be shown how search areas were calculated including dropping various sized feathers inside a hanger.
DOS has been contracted to assist in the search and recovery operation for the EgyptAir Airbus. Components including the flight data and cockpit voice recorder (black boxes) are important targets for the search operation and both have now been recovered on successive days by DOS's survey vessel John Lethbridge.
Wreck area localisation was determined a few days after John Lethbridge arrived on site and standard procedures used for the search in waters around 3,000m deep. The operation involved use of DOS's iXBlue tow-fish capable of diving to a depth of 6000m. It is equipped with sensors including: pinger locator, side scan sonar to map the seabed and an inertial subsea positioning system.
Once the search area had been reduced an ROV was deployed equipped with cameras, manipulators and acoustic sensor to track the black box pingers. The ROV position is projected in real time over the sonar mapping imagery generated during the survey operations. On the surface the ROV is then guided towards the black boxes by a Sonardyne beacon finder sensing acoustic pulses from the underwater locator beacon on each black box. The technology calculates range and bearing between the ROV and the target.
Once located the ROV gently catches the black box using its manipulators and places it in a special metal basket for lifting to the surface. Using the techniques outlined above the cockpit voice recorder was recovered on 16 May and the flight data recorder recovered the following day. Both were handed over to the Egyptian authorities.
By Peter Barker