News from Turkish shipbuilder Sanmar this month includes addition of a new Robert Allan Ltd (RAL) designed Sanmar Exclusive tractor tug to its portfolio and delivery of two RAmparts 2400SX examples to domestic owners.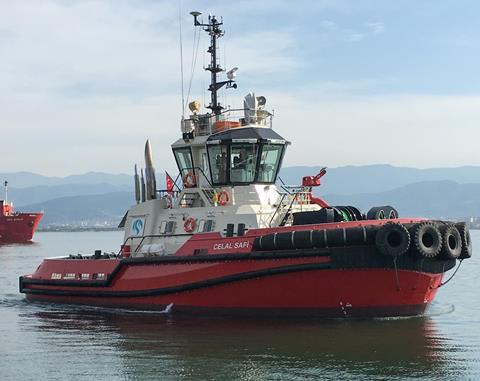 The new addition, designated the TRAktor Z-2500SX is described by Sanmar as a 'versatile Z-drive tractor tug … Designed for maximum efficiency in both ship-handling and towing duties'. It is a compact design kept purposely within the under 24m length rule conditions potentially making it a considered choice for small ports and harbours.
Hull and appendages were extensively model tested by RAL using its in-house CFD capability and main dimensions include length overall 25.3m, beam overall 12m and depth 4.55m. The machinery installation can be configured for three versions: a 70tbp or 60tbp tractor design, or a 60tbp Rotortug. A hold/workshop aft of the engine room can be configured as a compartment for the additional Z-drive with the Rotortug version.
As with typical tractor tug operation, towing is over the stern via a double-drum winch with a double-aperture staple, an optional tow hook can be included aft. Cylindrical and 'W' type fendering is fitted above and below the waterline aft with cylindrical and 'D' type fenders along the shearline and forward.
The wheelhouse main console is aft biased with careful routing of the exhaust stacks to improve visibility. Accommodation is provided for six persons in two single and two double-berth cabins, all above the waterline and complying with MLC2006 requirements. Various combinations of fire-fighting installations can also be accommodated.
Turning to the deliveries, around 30 RAmparts 2400SX (Sanmar Boğaҫay class) tugs have been delivered to owners in: Turkey, Italy, UK, The Netherlands, Peru, Dominican Republic, Sri Lanka and UAE and Bedia Safi and Celal Safi are the latest to emerge from Sanmar's 50,000m2 Altinova Shipyard. The owners are Safi Port, Derince, Turkey and the delivery voyage included towing a pair of new Palamar series mooring boats built by Sanmar to SafiPort.
The 24m long tugs have a moulded beam of 11.25m and draught of 5.1m. Both builder and designer provided considerable input to produce a high bollard pull for such a compact tug and they are powered by two Caterpillar 3512C main engines developing 3,530kW in total at 1,800rpm in turn driving Rolls-Royce US 205 FP azimuth thrusters via carbon shafts and delivering a bollard pull of 60 tonnes. A pair of Caterpillar C4.4 auxiliary generators are also included.
A port engine-mounted fire pump supplies a 1,200m3/hr FFS monitor on the forward end of the bridge deck and a DMT towing winch is also fitted forward. Tank capacities include 78m3 of fuel oil and 11.8m3 of fresh water and the hull and sea chests are treated with a Harsonic ultrasonic antifouling system as well as cathodic protection.
By Peter Barker