Amid a backlog of deliveries and orders building up we focus this month on two significant new tug arrivals and orders involving European shipyards.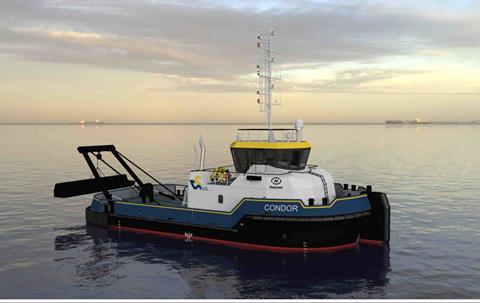 Ereğli Shipyard offers a diverse portfolio of products including tankers, mooring boats and pilot boats, its catalogue also including tugs from international design houses including Conan Wu and Kenton Marine. It also has an extensive selection from Robert Allan Ltd (RAL) and the Black Sea-based shipyard recently delivered two RAL tugs to owners in Italy and Israel.
The first to mention is Gordo, a MED-A1570 design based on RAL's RAmparts 2511W and delivered to Med Marine on behalf of Somat SPA of Italy. This compact 25m tug delivers an impressive 75tbp from Caterpillar main engines developing 4,200kW (in total) and Kongsberg FP thrusters. A slightly larger delivery with similar bollard pull to Gordo comes with Hadera also for Med Marine and the National Coal Corporation of Israel. Designated MED-A3270-SD it is a version of RAL's RAmparts 3270 ASD tug developing 4,700kW from Caterpillar main engines and Schottel SRP 1515 CPP thrusters.
A delivery of note scheduled for mid-2021 is promised following Belgium-based Verbeke Shipping's order for a EuroTractorTug 2410 with Neptune Marine, a Netherlands-based shipyard noted for high-specification tugs and workboats. The vessel, to be named Condor will feature twin Voith propulsors and be provided with a compact deck crane, anchor-handling winch and A-frame with dredging plough.
Antwerp-based Verbeke Shipping was previously active in the bunkering sector but engages now in towage, dredging and ploughing activities with four multipurpose vessels and a Neptune Marine-built flat top barge currently part of its fleet. Specifications and detail of this significant vessel are awaited with interest.
Turkey's Med Marine employs Eregli Shipyard exclusively for its new tugs as mentioned above and both companies are currently working on construction of a tug for Spanish operator Remolques Gijoneses with delivery due imminently. The MED-A2575 series vessel is based on RAL's RAmparts 2500W ASD design and follows two 24m, 45tbp RAL design examples delivered previously for the Spanish owners Gijón operation.
Ms Melis Üçüncü, Med Marine sales manager said: 'We have long term collaboration with Remolques Gijoneses and this is a repeat order. Once delivered, total number of Med Marine-built tugs operating in Remolques Gijoneses' fleet will be three.'
By Peter Barker