The UK's Delta Power Group is one of the oldest RIB builders with a history going back almost 50 years.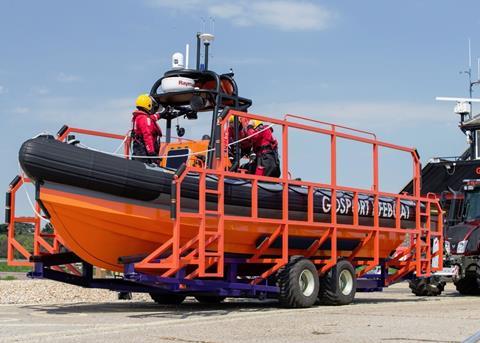 The company has built its reputation on supplying sound seaworthy RIB designs, many featuring the unique raised bow lines that have contributed to making the Delta designs some of the most seaworthy RIB concepts on the market.
This wealth of experience has been used in the design of two advanced rescue boats that the company has recently launched for private lifesaving organisations.
Gosport and Fareham Inshore Rescue operate rescue services over most of the East Solent where there can be challenging sea conditions when strong tides and winds generate a short steep sea. To cope with these conditions they opted for a rescue boat based on one of Delta's largest open RIB designs, their 9 metre, powered by inboard diesel engines coupled to water jets.
An unusual feature of this RIB is that the self-righting inflatable chamber has been incorporated into the mast structure over the helm station amidships rather than in its normal position over the stern. This is partly because the major weight in the boat, the diesel engines, are further forward in the hull that would be the case with outboard motors and it also offers the benefit of leaving the stern of the boat clear for towing operations which constitute a major proportion of the rescue work undertaken by the Gosport team. A strong towing post is installed in the stern.
The tubular mast structure, which can be folded down, that supports the self-righting system also supports all the antenna. These include the Raymarine 18" antenna for the radar and the Raymarine T353 thermal imaging camera for night work. Twin Raymarine chart plotters are installed on the dash, a larger 12" display in front of the navigator and a smaller 7" one in front of the coxswain. Other electronic equipment includes an AIS transponder for tracking the boat, an echo sounder and an electronic compass, all from Raymarine. Communications are provided by two ICOM VHF radios.
The engines are a pair of Yanmar 8LV-320 V-8 diesels with each one producing 320 hp. These are coupled to the Hamilton HJ274 water jets via ZF reverse/reduction gearboxes. This combination gives this rescue boat a top speed in excess of 40 knots making it, what Delta claims, the fastest lifeboat in UK waters.
The crew are provided with Shockwave sprung seating with two fixed units and two foldaway seats. Equipment storage boxes are situated in the forward cockpit area. Fuel is carried in two stainless steel 150 litre tanks situated under the deck.
Severn Rescue (SARA) operates a rescue service covering the challenging waters of the Upper Severn Estuary including the adjacent rivers Usk and Wye. This area is noted for its high tidal range that can extend up to 15 metres and for its very strong currents and extensive sand/mud banks. They operate boats from various bases in the area and the high range of tide makes launch and recovery a challenging operation.
For their latest rescue boat the team chose a boat based on Delta's proven 800X RIB hull. This is a deep vee hull with the characteristic Delta raised bow to give good performance in the short steep waves that are a feature of their operating area. To facilitate casualty recovery and to make the boat more stable at rest or at slow speed a ballast tank has been installed amidships which can be rapidly filled by electric pumps and emptied by a dump valve once the boat starts planing. A second ballast tank has been installed in the bow and this one is used in the more conventional way to help keep the bow down when operating in head seas. A display developed by Offshore Systems shows the fuel and ballast tanks contents in various ways such as analogue, digital or graphic displays.
This rescue boat is powered by a pair of 150hp Mariner 2.5 litre petrol fuelled outboard engines that are fitted with post immersion restart systems to allow engine starting after a capsize. There is the more conventional arch frame mast installed aft to support the self-righting inflatable chamber system as well as the various antenna with a towing post mounted on the deck near the transom.
For this rescue boat the electronic outfit comes from Garmin and comprises two of their GPSMap 751 displays, and an 18" radar antenna, two GPS receivers and a Class B AIS transponder. Also installed is a Rhotheta direction finder to track radio signals and two ICOM VHF radios. The crew is seated on 5 Delta jockey pods although the boat would normally operate with a crew of three, allowing two seats for survivors. Fuel is carried in two stainless steel under deck tanks with each one holding 120 litres.
Another recent delivery from Delta is the first RIB patrol boat based on their new 8.5 metre Typhoon design. This boat has been delivered to the Lake Windermere lake wardens for patrolling this busy lake and this first version is 7.8 metres in length. This new design has been developed to give a flexible approach to fast RIB patrol boats and it features a flat deck with the single 440hp Yanmar diesel located under the deck. This engine drives a Hamilton water jet to give speeds in excess of 40 knots.
Although not fitted to the Windermere boat, this design can be produced with a bow ramp for disembarkation and for military requirements the deck can accommodate 6 sprung seats in addition to the two crew seats. Inflatable or foam tubes are other options available and the RIB is offered in lengths from 7.5 to 9 metres.
By Dag Pike