DEME Concessions NV, a member of the DEME Group, has completed its purchase of shares in Tidal Power Scotland Limited (TPSL).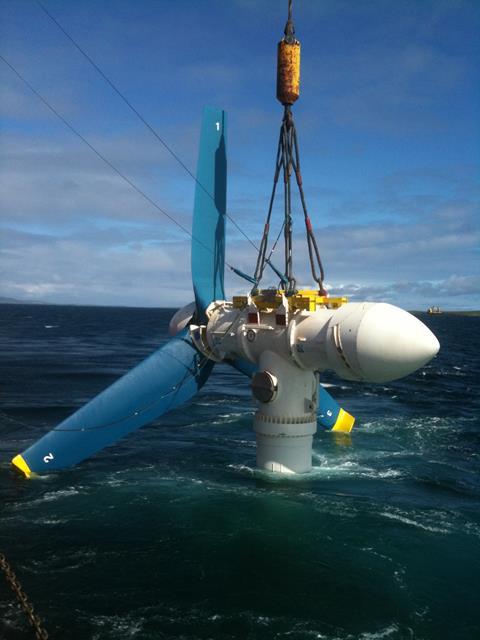 Under the terms of the agreement announced in April, DEME has paid £2 million in cash consideration for a 2% stake in TPSL, which is a subsidiary of Atlantis Resources.
Tim Cornelius, CEO of Atlantis, said: "The quality of both of these companies, each of which has a proven track record in delivery of complex offshore projects, speaks volumes for prospects of tidal power globally."
DEME will receive certain rights in respect of further equity funding at financial close of the Sound of Islay project and Phase 1C of the MeyGen project.
In addition, the DEME Group is now taking an active role in the MeyGen Phase 1A installation through DEME's subsidiary, Geosea NV (GeoSea), a specialist in complex offshore marine engineering projects.
Geosea, will install with the jack-up vessel MV Neptune all heavy turbine foundation structures and some of the turbines for MeyGen Phase 1A. The Neptune is expected to arrive at Nigg Energy Park in September to commence equipment mobilisation.
Mr Cornelius added: "The world's most high profile tidal power project deserves the deployment of the world's best offshore construction contractors. We are on track to deliver first power to the grid from MeyGen Phase 1A later this year, which will be a landmark event for the global marine power industry."
GeoSea joins a strong team of contractors at MeyGen working alongside James Fisher Marine Services Limited ("JFMS"), a world leader in dynamic positioning vessel operations in high tidal flow conditions.
As well as installing some of the turbines for Phase 1A JFMS has already completed deployment of the subsea export cables which will deliver power from the turbines to the onshore grid connection point.
The JFMS group has also provided diving services and supplied marine equipment and mooring systems through its subsidiaries: Mojo Maritime, James Fisher Subsea, James Fisher Offshore and Fendercare Marine
By Anne-Marie Causer