Belgian dredging and offshore contractor DEME has launched its first wind farm service operations vessel (SOV) based on a SWATH design at the CEMRE shipyard at Yalova in Turkey.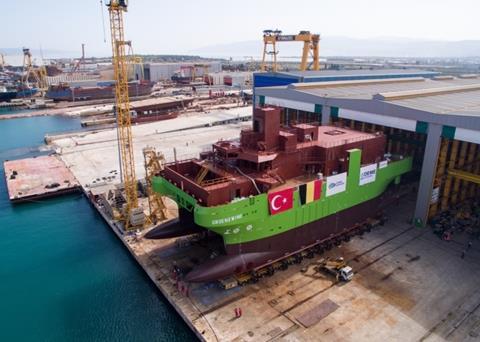 The vessel which is named Groene Wind is the first DP2 twin-hulled SOV in the world and the first to serve three different wind farm sites according to DEME. The vessel will be chartered to Siemens Gamesa for maintenance work on the Rentel and SeaMade wind farms in the Belgian sector of the North Sea. The Small Waterplane Area Twin Hull (SWATH) vessel is due for delivery in 2021.
The company's in-house team worked with Vuyk Engineering Rotterdam and the Dutch research institute MARIN, in an effort to significantly improve the safety, comfort and workability for wind farm technicians in the new vessel. "The SWATH design ensures low wave impact on movements when approaching wind turbines, compared with a traditional monohull SOV," DEME said. "The design will enable safe crew transfers in higher significant wave heights. The DP2 technology will allow the vessel to hold its position in rough seas but at the same time operate with lower fuel consumption when compared to traditional SOVs, potentially achieving 50% reductions in fuel consumption."
The propulsion system comprises an azimuthing thruster at the stern of each hull and for the dynamic positioning each hull is fitted with a pair of tunnel thrusters at the bow. The 60 metre long vessel is fitted with a number of environmental features including a waste heat recovery system.
By Dag Pike