Belgium's DEME Group shows determination to maintain its 2016 turnover of nearly €2bn by winning a collection of new dredging contracts across Europe and Africa.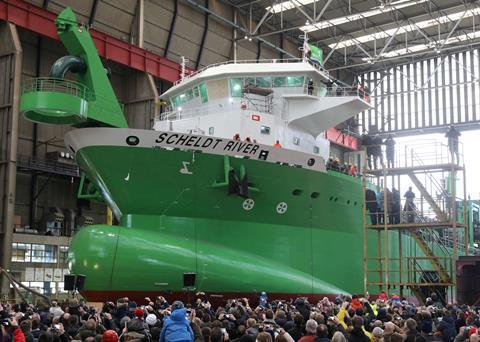 DEME's Bremen based German subsidiary Nordsee Nassbagger und Tiefbau GmbH has won a joint venture two year contract for maintenance dredging of the entire 116 km long fairway of the River Elbe between the North Sea and Hamburg. The trailer suction hopper dredger Marieke will be deployed on the works as soon as it has finished reclamation works for the port expansion at Cuxhaven, also on the Elbe.
As Nordsee Nassbagger unf Tiefbau is also executing a two year maintenance dredging contract on the River Weser, ensuring navigational depth to the port of Bremerhaven, DEME is now maintaining the fairways towards two of the biggest container ports in Germany.
DEME has also recently acquired several new contracts in the French ports of Calais, Boulogne-sur-Mer, Brest and Bordeaux. In the ports of Calais and Boulogne-sur-Mer DEME's French subsidiary Societe de Dragage International (SDI) will undertake maintenance dredging works. At Brest SDI will participate in building a new 400m long quaywall and a 100m wide platform as part of a new terminal for heavy loads. In Bordeaux a water injection dredging campaign on the Gironde river will be executed in order to maintain port access.
In the UK, DEME subsidiary NewWaves Solutions Ltd has been awarded the contract for dredging and beach recharge works at Dawlish Warren in Cornwall while in Spain DEME will start dredging works at the port of Barcelona for the construction of a new quaywall.
The total value of these contracts amounts to some €115. With such substantial demand for sustainable dredging solutions for customers across the region, DEME will soon enhance a fleet designed specifically for operations in European waters with the addition of the two newbuild dual fuel hopper dredgers Scheldt River and Minerva.
Meanwhile in Africa, DEME has won contracts in Angola, Benin, Ghana, Ivory Coast, Liberia and Nigeria with a total value of some €125m.
In Angola a five year maintenance dredging contract awarded by Angola LNG for its gas terminal at Soyo is due to start this month.
In Benin DEME has been awarded a contract for coastal protection works at the Cotonou shoreline. Works will include beach nourishment with a total volume of 1.5m cubic metres as well as revetment works and groyne construction.
In Ghana DEME is participating in the Tema Port expansion project, whereby the country's main seaport, operated by Meridian Port Services, is gearing up to accommodate some of the world's largest container ships as it bolsters its cargo handling services and capacity. The project includes dredging and reclamation works involving 3m cubic metres of material.
In the Ivory Coast a contract has been awarded for the maintenance dredging of the port of Abidjan. It is DEME's third consecutive win from the Port Autonome d'Abidjan. DEME also returns for maintenance dredging works in the Freeport of Liberia with a new contract awarded by Liberia's National Ports Authority.
In Nigeria DEME has acquired a contract for the Maiyegan Waterfront development in Lagos, which involves the reclamation of some 600,000 cubic metres to raise the level of an existing beach. Maiyegun Waterfront will include new housing units, a commercial hub and leisure facilities. This contract follows on from a recently won project for the Lagos Deep Offshore Logistics Base (LADOL), where DEME is involvd in yard and quaywall construction as well as dredging of the pocket berth and access channel to the quay on behalf of Samsung Heavy Industries.
By Larz Bourne