Damen Shipyards Group has won a UX Design Award for the Human Machine Interface (HMI) element of its Next Generation Tug Series development.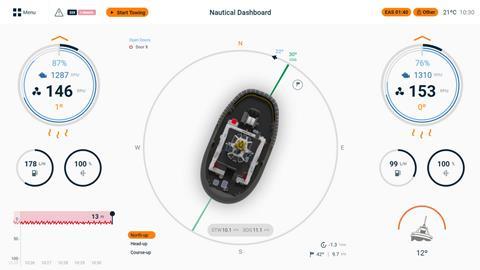 Advances in technology including digitisation are producing ever-increasing flows of data available for example for tug masters and crews. While such sensor-based information can and does benefit the overall safety and efficiency of the operation, it can also lead to information overload.
A lot of information can be displayed on the relatively small screens found on ship-handling tugs but the dynamics of the operation often require instant reactions from the master with little time to absorb non-relevant information or put another way, he or she will probably prefer to look out of the window rather than at a screen for too long. The balance of providing essential technical and situational information in a user-friendly and relevant form is clearly important.
Jeffrey Jacobs, Damen's technical manager tugs explains: "During operations, decision making by the crew has to be quick, despite them being under pressure, so any information has to be clear and relevant to each particular stage of the operation." Adding: "At the same time the ease of operating the system requires an intuitive and simple interaction."
The HMI covers the full integrated class-approved Alarm, Monitoring and Control system accessible from wheelhouse, main deck and switchboard room and future-ready, designed to accept additional applications on multiple devices at a later stage in what Damen describes as: "A format that is as easy to use as a mobile device."
The #UXDA19 jury nominated 51 projects from over 20 countries for the UX Design Awards 2019 from which it selected 10 winners based on two days of testing and intensive deliberation. In making the award to Damen the jury stated: "The Tugboat Alarm, Monitoring and Control System stands out for its innovative visual design and user-centered development process, especially in the context of the maritime industry." Adding: "The system balances visual material and data well. Being both context and role-sensitive, it is a flawless example of a tailor-made approach that meets the requirements of different user groups, including captains and engineers."
The award was presented recently at the global technology show IFA in Berlin where Damen demonstrated the system to the public as part of a special exhibition at the event.
By Peter Barker