Turkish shipyard Bogazici Denizcilik A.S. has delivered a powerful ASD terminal tug capable of multipurpose duties to SOMAT S.P.A. of Italy, designed by Spanish naval architects Cintranaval-Defcar S.L.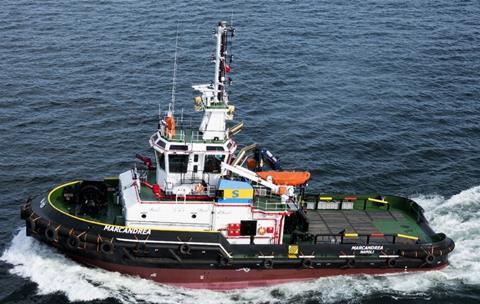 Marcandrea (ex Bogazici 22) is a Bogazici Escort class tug built to Cintranaval-Defcar's CND-15055 design intended for a variety of duties reflected in its role specification of: escort and ship-handling, fire-fighting, oil recovery, open water towing and anchor-handling along with capacity for three 20' containers on the after deck which is reinforced for loads up to 5t/m2. Following formal delivery the tug sailed to its home port of Trapani.
The vessel is classed by BV with the notation: +HULL, +MACH, Salvage Tug, Escort Tug, fire-fighting ship-1, water spraying, oil recovery ship, unrestricted navigation, +AUT-UMS-PORT, Cleanship, IWS. Main dimensions include: LOA 32.5m, breadth moulded 11.7m and draught moulded 4.3m. Tank capacities include 239.3m3 of fuel oil and 25.8m3 of fresh water, allowing the tug to carry out long distance towing work.
Caterpillar are the main supplier of power on board Marcandrea comprising two NRF box-cooled 3516C/D main engines each delivering 2,100kW at 1,600rpm to Schottel SRP 1515CP rudder-propellers, each with 2,600mm diameter four-bladed controllable pitch propellers. The all-important performance figures include ahead bollard pull of over 74 tons (100% MCR) and free running speed of more than 13 knots.
Three additional Caterpillar engines are installed, two C7.1 gensets producing 100kW each at 1,500rpm and a harbour generator producing 68kW. Other auxiliary machinery includes Alfa-Laval fuel separators, a Facet oily water separator and sewage treatment installation and a NOVEC 1230 fire extinguishing system.
Marcandrea is particularly well equipped with towing equipment, both over the bow and from over the stern. Sliedrecht, the Netherlands-based Kraaijeveld Winches has provided the main winches with a 200t brake load (80t rendering force) combined towing and anchor winch forward. Designed for escort duties it holds 200m of 54mm diameter UHMWPE synthetic rope in four layers.
On the after deck a Kraaijeveld hydraulic double-drum towing winch is installed. Also with a 200t brake load this winch accommodates 800m of 52mm steel towing wire on the main drum and 400m of 52mm diameter wire on the auxiliary drum which is designed for salvage operations, tandem towing and anchor-handling operations.
Towing provision is supplemented by a 70t SWL towing hook on the towing bit aft and hydraulic towing pins aft. Completing the deck machinery is a 1m by 3m stern roller and a Palfinger deck crane rated 1,100kg at 10m.
Hull lines and appendages are designed to provide suitable escort performance while maintaining a comparatively shallow draught. The raised forecastle provides good seakeeping performance and minimises water on deck and the hull is protected by the standard high-quality fendering.
By Peter Barker