Voith GmbH has provided more information on the order from Multraship for two Carrousel RAVE tugs featuring Voith Schneider propulsion units.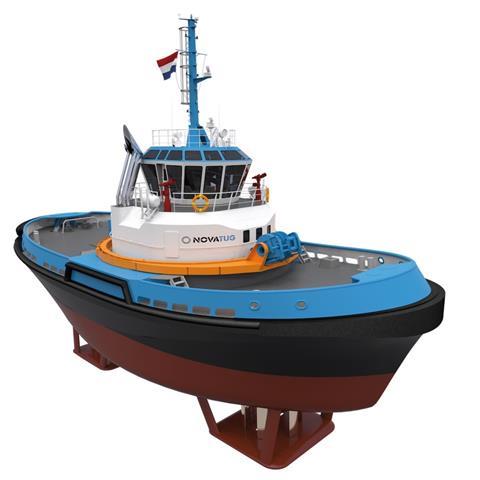 The December 2015 edition of MJ reported on a flurry of tug orders from Multraship including two with Carrousel towing arrangements. They are based on the Robert Allan Ltd RAVE design (Robert Allan Voith Escort) so involve an interesting design of escort tug along with an equally interesting towing arrangement.
The order was placed through Multratug's 100% owned subsidiary Novatug BV with construction entrusted to Damen Shipyards Group. The hulls are being constructed by Hamburg-based Theodor Buschmann GmbH through an agreement between Novatug and Damen subsidiary Van der Velden Barkemeyer GmbH, final outfitting carried out at Damen Maaskant Shipyard in Stellendam.
The Carrousel Towing System utilises a towing winch mounted on a ring rotating freely around the tug's wheelhouse, an arrangement which Voith states will eliminate the risk of capsizing under a tow load. In combination with two Voith Schneider propellers arranged in-line the design allows for a slender and highly efficient hull. It is claimed that 'new and previously unseen levels of tug operation safety and efficiency will be reached with this revolutionary concept.'
Braking and steering operations will be able to be performed 'highly efficiently' and utilisation of hull forces rather than propulsor forces will result in lower fuel consumption and fewer emissions. Voith speak enthusiastically about prospective performances through adoption of the Carrousel Towing System stating the tug will 'carry out manoeuvres not seen before with any other tugs concept.' During these manoeuvers, the yaw angles of the tug are virtually limitless.
Voith Schneider propulsors were selected for their precise thrust control, quick response and insensitivity to variations in inflow direction. Arranged in-line they allow smooth and precise control of the tug's heading under all possible operating conditions resulting in towline forces being continuously controlled safely and precisely by the propulsors.
The optimum position of the propellers relative to the Carrousel system along with optimum size and position of the skeg were determined with the aid of Computational Fluid Dynamics (CFD), the Voith simulator and model testing techniques. The result is described as a well-balanced tug that is stable and easy to handle in all sea and weather conditions. The Voith Schneider propellers are controlled via a fully redundant Voith electronic joystick control system.
Deliveries are scheduled for first quarter of 2017 and the particular propulsors selected are 32RV5 EC/250 models in combination with Voith Turbo couplings, Renk gear couplings and two ABC main engines delivering 2,650kW at 1,000rpm. Anticipated performance figures include a bollard pull of 70 tons, steering force up to 160 tons at 10 knots and free running speed of 14 knots.
By Peter Barker