Following the 2011 Fukushima nuclear disaster in Japan, a major investment is being made into finding a renewable energy option that relies on the power of offshore technology.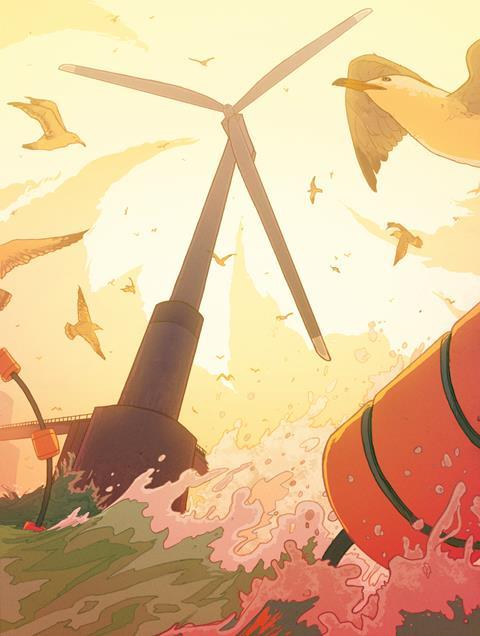 One of the major focus areas is wind power, and since Japan is a crowded and mountainous country, the search for sites has moved offshore, with floating turbines the main option in the deep waters off the rugged coastline.
Swedish marine polymer expert Trelleborg is at the forefront of pioneering offshore wind power in the country and has been involved in the Fukushima Forward project for offshore wind power, being conducted by the Japanese Ministry of Economy, Trade and Industry.
The project includes three different types of wind turbines and the world's first offshore floating substation. The primary phase, completed in September 2013, saw installation of the substation and one two megawatt floating turbine.
Its second phase, which includes installation of two seven megawatt turbines, is ongoing and is expected to be finalised by the end of 2015.
Following a successful delivery during phase one, Trelleborg has been selected to provide its distributed buoyancy modules (DBM), bend stiffeners with dynamic bend stiffeners connectors (DBSC), UraductTM cable protection and bending restrictors to the second phase of the project.
The products are designed to secure, guide and protect the subsea electrical power cables from excessive movement and bending, which could cause fatigue damage.
"Securing the contract for phase one was a real accomplishment for Trelleborg," said John Deasey, renewables sales manager within Trelleborg Offshore & Construction. "We knew the gravitas of the project and the tight deadlines it was under. However, with the input of our specialist teams we made sure that we delivered all products exactly to schedule and in accordance with the client's strict deadline."
According to Furukawa Electric, the company in charge of the project, Trelleborg was originally appointed as supplier because of its reputation for delivering high-quality solutions and technical know-how, even under challenging deadlines. As a result of the prompt delivery during phase one, there was no hesitation to enlist Trelleborg again for the second phase of the project.
The opportunities for Trelleborg's continued involvement in the project are huge going forward.
Mr Deasey added: "The prospect of a 120-turbine project would provide an opportunity for the largest-ever supply of bend stiffeners, connectors and other products. The benefits for Trelleborg would also be the knowledge gained in this new business sector and the possibility of supplying emerging markets with the same technology."
By Anne-Marie Causer