Seawork 2017 exhibitor Dynamic Load Monitoring (UK) Ltd has launched a new product for measuring and data logging the Tensile load on subsea applications.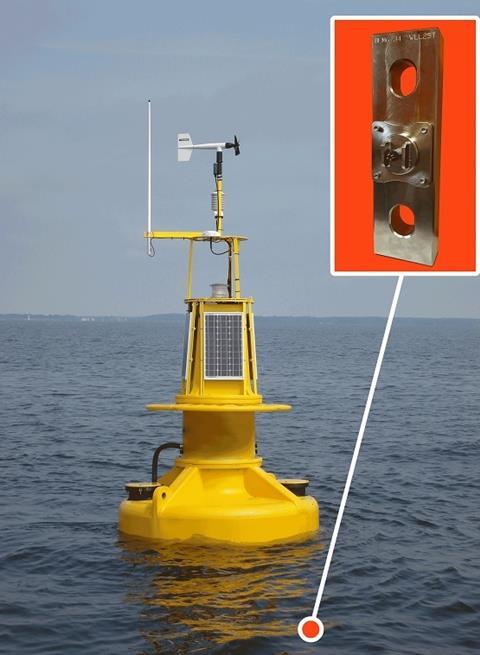 The Subsea Data logging Tensile Link was developed by DLM Engineers following numerous enquiries and a high demand from its Subsea, Offshore and Ocean Science customers.
The Subsea Data Logging Tensile Link is a robust Tensile Link used for measuring tensile loads on subsea mooring lines, underwater deployments and other similar applications. Available in load ranges from 5 tonnes up to 200 tonnes the, instrument measures and records the applied load using an internal data logger which was developed by DLM Electronic Engineers.
Fully sealed to withstand subsea environments the load cell is capable of being deployed in up to 3000m water depth for periods of up to 1 year. Manufactured from Stainless Steel or Nickel plated Steel (depending on customers' requirements) the load cell is pressure tested and fully calibrated after manufacture to ensure reliability and accuracy to the highest degree.
The internal data logger inside the tensile link is self-powered and enables load readings to be recorded at a maximum rate of 1Hz for periods of up to 12months depending on the sample rate. Data logs can be accessed by using the supplied subsea cable which is connected to the subsea connector mounted to the side of the Load Cell in a protective shroud. Stored as .CSV file format the logs are easily accessible using already existing PC software like Microsoft Excel, enabling easy data processing after de mobbing.
Martin Halford, Managing Director at Dynamic Load Monitoring said: "The Offshore industry is one which we are particularly familiar with and this latest product development was born out of discussions with various clients in the Ocean Science industry who had requirements to understand the forces exerted on mooring lines connected to Ocean Weather buoys throughout the duration of their deployment. Understanding this information enables them to improve designs and also helps to plot what happens to the buoy throughout the duration of its deployment."
He added: "Since the development of this product, we have had enquiries from all over the world including mainland Europe, India and Japan amongst others. To date we have several Load Cells deployed off of the coast in Japan monitoring the line tension on a mooring catenary for a renewable energy application and also another Load Cell deployed at the mouth of the English Channel measuring and recording the line tension on mooring chain connected to a weather buoy. We see huge potential in this product as it is easy to deploy and maintain, while also providing the end user with vital scientific information over a long period."
Visit Dynamic Load Monitoring (UK) Ltd at Seawork International 2017 on stand PY141.
By Jake Frith