CJR Propulsion has announced the signing of an exclusive distributor agreement with Sea-Tek of Norway, establishing CJR as the sole distributor of Australian-manufactured Doen Waterjets in the United Kingdom and Republic of Ireland.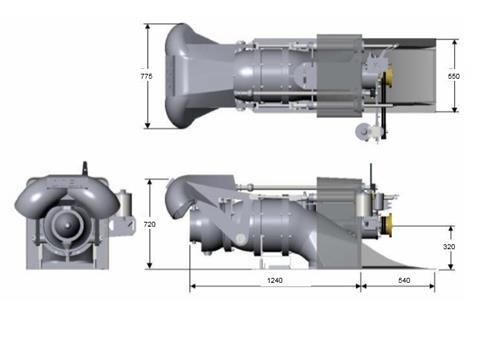 CJR Propulsion describes itself as the UK's leading designer and manufacturer of precision engineered propeller and sterngear packages, supplying the world's premier commercial, leisure and superyacht brands. In recent years, CJR has established itself as one of the UK's most respected marine manufacturers, incorporating the very latest in design and manufacturing technology to produce products that offer a step change in performance compared to its competitors.
Sea-Tek supplies high-quality mechanical, electronic, and hydraulic systems for controlling propulsion systems to the marine industry across Europe and holds the European distribution rights to Doen Waterjets.
Doen Pacific, a leading designer and manufacturer of waterjet propulsion systems for the past 48 years, offers waterjets to match engines from 100 to 4,000kW, with some 4,000 applications already on the water, spanning more than 30 countries around the world.
Waterjet propulsion offers advantages for high-speed vessels used for specialist applications, particularly wind farm support, where lower engine load factors and the ability to push against the turbine with considerable thrust at zero vessel speed are critical.
Waterjets are also ideal where extra safety is an operational requirement, as well as the ability to operate in shallow waters. This is combined with excellent manoeuvrability including an emergency stop system, station keeping and Dynamic Positioning features.
By introducing Doen Waterjets to its product portfolio, CJR Propulsion is able to offer both fixed sterngear and waterjets to its customer base, with technical support available to optimise hull design and performance for either system through CJR's in-house computational fluid dynamics (CFD) department.
Following a period of significant investment, CJR has emerged to become one of the UK's most respected marine manufacturers; supplying precision engineered propeller and sterngear packages to a host of leading commercial, leisure and superyacht brands.
In other Doen news, the Australian company has introduced the interesting DJ142 to its current range of waterjet models in November 2015. Following the successful launch of the DJ140HP using the most recent intake and impeller designs, it was timely to introduce this latest 14-inch waterjet model into the market.
The DJ142 transom mount waterjet perfectly meets Doen's key design criteria of high performance, reliability and simplicity of construction and maintenance. This axial flow waterjet delivers compact and efficient performance at speeds up to 45+ knots. Construction comprises Stainless Steel and heavy-duty powder coated Aluminium components protected with an anode anti-corrosion system.
The transom mounting and very low profile of the waterjet ensure minimal intrusion into valuable onboard space. This allows for very low profile swim platforms or additional deck area; and the low propulsion shaft height allows flatter trim for the boat.
The use of modular construction has allowed the DJ142 to be lightweight, compact and simple to maintain and repair while being a robust commercially rated waterjet. The heavy-duty propulsion shaft and bearings, and an upgraded reverse mechanism with two cylinders assist in providing long life and trouble-free operation. The design and construction allow the DJ142 to be easily configured to meet BV, DNV, Lloyds, Rina or other marine standards on customer specification.
Doen's standard hydraulic rotary servo control (RSC) provides proportional, position sensing, and control of the reversing bucket by way of a 3" (75mm) stroke Morse 33C cable. For twin installations, DJ142 can also be configured with Doen's fully integrated electronic control system, ECS200.
DJ142 is expected to be in strong demand within the more sophisticated commercial and military markets, typically twin installations in small workboats and patrol vessels up to 15 metres length, powered by inboard diesel engines up to 700hp. By Jake Frith