US privately-owned Crowley Maritime Corporation has expanded its towage fleet with the addition of a biofuel-powered escort tug and an articulated tug/barge (ATB) unit.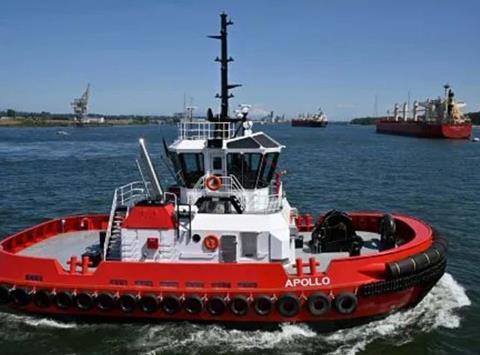 Crowley's activities include logistics services such as ocean and land transportation while its extensive shipping division provides diversified services including ship assist and tanker escort services along with articulated tug-barge units. The latter division has taken delivery of the Robert Allan Ltd-designed tug Apollo, built by Diversified Marine Inc and earmarked to join sister-vessel Hercules serving vessels in San Francisco Bay.
Stand-out figures for Apollo include an estimated 94tbp from a hull 'under 80ft [24m] long' with power derived from Caterpillar 3516 Tier IV-compliant engines. As well as meeting State of California environmental regulations, Crowley states congestion in the ports of California makes performance 'no.1 concern' for customers, obviously a factor in the selection of such a compact yet powerful vessel.
Crowley Fuels is another arm of the Crowley family, benefitting now with arrival of the ATB unit Aurora/Qamun from Master Boat Builders of Coden, Ala with the barge built by Gunderson Marine LLC. The ATB was designed in-house, specifications including a tug length of 32.3m and barge length 55.8m and with a 55,000-barrel capacity will transport clean petroleum products year-round in the remote regions of Western Alaska. Like Apollo, the ATB features Tier IV engines for reduced emissions in this case powering Z-drives with 400hp bow thrusters enhancing manoeuvrability and a range of 4,300 miles allowing access to most locations in Alaska.
Increased structural framing, shell plating and extended zero-discharge endurance with shallow water capabilities means Aurora/Qamun meets Ice Class and Polar Code requirements allowing operation in winter ice conditions and temperatures as low as -20'F. In addition, ship fenders and a specialised coupling system including a 'first-of-its-kind lightering helmet' allows for ship-to-ship lightering. Its double hull design and low draught allow shallow water operation (2.7m) and a double anchor system allows it to move close to beaches to reach undeveloped ports and village sites.
Aurora/Qamun joins a formidable fleet of vessels for Crowley who operate and manage 'the largest US-flag petroleum and chemical tank vessel fleet in the country' including 42 Jones Act large petroleum transportation vessels carrying nearly 750 million barrels of product with more than 5,700 transfers in 2020.
By Peter Barker