Two news items from Macduff Ship Design Ltd are reporting delivery of a shallow draught ASD tug to Turkey and establishment of a new marine surveying branch to fill a gap of such skills in north east Scotland.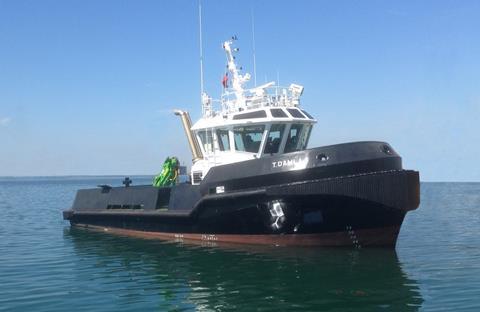 The 19m ASD tug T.Damla 6 is first of two similar vessels for Turkish owner T.Damla Denzilik and was completed following an 18 month collaboration between Macduff Ship Design (Scotland) and RMK Marine (Tuzla, Turkey). The collaboration has seen completion of seven vessels to two different design, all of which together with the T.Damla 6 and second of the pair are for the same local owner.
T.Damla 6 is classed with the American Bureau of Shipping and carries the notation +A1, +AMS, +ABCU, Towing vessel, QR, BP(21), UWILD. Hull and superstructure are constructed in steel to a Macduff design using Microstation/Maxsurf modeller CAD software. Basic specifications are: LOA 19m, beam 8.4m and draught 3m with fuel capacity of 23,000 litres and fresh water 7,000 litres.
Two Caterpillar C32 main engines, each rated 746kW at 1,800 RPM are connected to Berg MTA 316 azimuth thrusters. Performance figures include bollard pull in excess of 24 tonnes and speed of 10 knots and auxiliary machinery includes two Caterpillar C4.4 86ekW gensets.
Towing arrangements consist of 'H' bollards forward and aft of the wheelhouse, each fitted with 30t SWL disc-type towing hooks. An electric windlass is fitted forward and a Toimil T-10500 marine crane is located aft. T.Damla 6 has fire-fighting capabilities via a 600m3/hr monitor driven by a fire pump fitted to the port engine. Accommodation is provided for four persons in two cabins with a common WC and shower space as well as spacious galley and mess area.
The second item of news covers the launch of Macduff Marine Surveyors, a new branch of the company aimed at providing marine survey work both locally and further afield and based at Macduff's offices in Aberdeenshire. In 2014, Macduff Ship Design became aware of the diminishing presence of qualified marine surveyors in north east Scotland due to retirement of both independent surveyors and those from established marine survey companies. There appeared to be no replacements being trained to fill the gap.
Macduff Marine Surveyors now provides professional survey functions in areas including: statutory workboat coding; marine insurance damage cover; vessel valuations for banks and financial institutions; new construction supervision; project management for vessel conversion work; towage certification for insurance companies and finally tonnage measurement.
Principal surveyor at the new company is Mr Jim McDonald, MCMS, IEng, IMar Eng, MIMarEST. Following apprenticeships at Southampton and Glasgow Marine Colleges Mr McDonald obtained his Chief Engineers (Unlimited) certificate and has served the marine industry both at sea and as a Marine Superintendent.
By Peter Barker