Trondheim Norway-based BOA Offshore AS has provided details of its involvement in recent months in two complex salvage operations.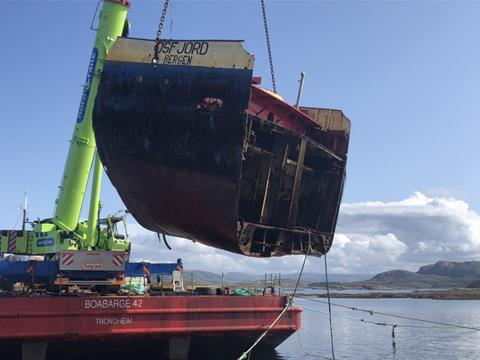 With a fleet of around 35 vessels including flat-top and semi-submersible barges, family-owned BOA operates a diverse range of services including towage; offshore and subsea support; sea transport and load-out operations with salvage being one of its activities.
Local involvement can be an important component in the success of complex salvage operations and BOA has provided such support with completion of two operations involving recovering a sunken Norwegian frigate and the wreck removal of a sunken general cargo vessel.
The collision between the Norwegian frigate Helge Ingstad and tanker Sola TS received wide media coverage, the heavily damaged frigate grounded in Hjeltefjorden. BOA was contracted to salvage the vessel and a four-point plan was drawn up.
Firstly, Helge Ingstad was secured to the shore to avoid further sinking. Next fuel was to be removed along with the placing of chains around the hull in preparation for lifting. Step three involved actual lifting and dewatering of the vessel before loading on to Boabarge 33 with the final step involving transporting and re-delivery to the owners.
Contracted partners including SubseaPartner, IMC Diving AS and Hjorteseth Shipping AS assisted with the operation with Semco Maritime AS and Kranringen AS contracted for the facilities and services at Hanøytangen dry dock.
Scaldis provided two heavylift vessels Rambiz (3,300t capacity) and Gulliver (4,000t capacity) and after weather delays the frigate was successfully raised and trimmed before being moved to the dry dock. Following further work, it was loaded on to Boabarge 33, and towed to the Norwegian navy base at Haakonsvem by the tug Boa Balder and redelivered to its owners.
The second incident for BOA involved removal of the wreck of the cargo vessel Osfjord following its grounding on the coast of Trøndelag, Norway. BOA was awarded a wreck removal contract involving three steps.
The first stage saw the vessel cut into six sections after which each was lifted onto a Boabarge using a mobile crane and finally the barge was towed away for scrapping of the ship sections. The complete operation was reported to have been carried out in 26 days to the full satisfaction of both client and authorities.
By Peter Barker