HvS Dredging Support BV, an offshore support company located in Harlingen Holland, has announced that its new unique multi-purpose DP 2 vessel 'Zwerver II' is now operational.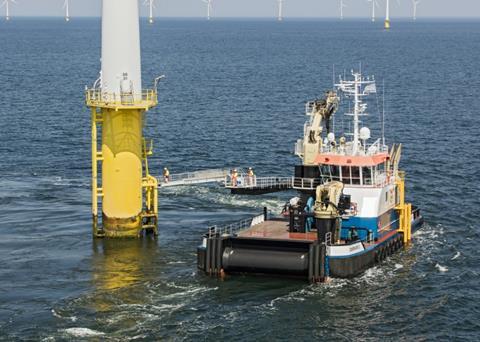 The vessel has been designed for supporting renewable energy offshore installation projects all around the world.
HvS Dredging Support BV was responsible for the design of the vessel which was engineered in close collaboration with Kooiman shipyard, Zwijndrecht, which constructed the entire vessel.
HvS says that the vessel represents the first of a new, smaller, class of 'DP Support Vessels' in the offshore market. The extended equipment and capabilities, enables her to compete with the larger DP-Support vessels in the market worldwide.
The design is based on their existing DP-1 MPSV Zwerver III, but upgraded with specific equipment which is completely new and unique in this type and size of support vessels. With dimensions of 35m x 15m and functions like DP-2, a bollard pull of over 60T combined with a minimum draught of 2.70m, makes her perfectly suitable for the renewable energy market.
One notable feature of this vessel is the Uptime 'Walk-to-Work' passive heave compensated gangway, which is installed in the centre of the vessel on the same pedestal as the hydraulic Offshore crane of 510T with AHC and CT winches. The passive heave compensated gangway enables her to transfer crew/technicians to turbines and platforms. The Offshore crane has a maximum reach of 31.9 m and was delivered by Lagendijk Equipment BV.
The extended deck equipment consists of two massive anchor handling-/towing winches with a pull capacity of 200 and 100T, one HS Marine hydraulic knuckleboom crane of 370T with a capacity of 10T @ 20m on the foredeck and four tugger winches with 15T pull and 30T hold capacity.
The vessel has high-spec accommodation for 17 persons in standard configuration, and arrangements have been made (plug-and-play) to extend this accommodation with 2 x 2-pax HVSDS temporary living quarters up to 21 persons.
The hydraulic bow door, already successfully introduced on the Zwerver III, which closes the fore deck for seawater/swell has also been included in this vessel's design.
The Zwerver II is suitable for operations like Offshore maintenance/installation support, walk-to-work, rov-support, diving support on dp-2 or 4-pt mooring, mattress installation, anchor-handing, towing, cpt-vibrocore ops, survey and many more.
The vessel mobilised to Liverpool, UK during May for her first project. She will be involved with the mattress installation and trenching operations on Burbo Bank Extension offshore wind farm.
By Jake Frith