Following the certification of their new controllable pitch propeller by DNVGL, Piening has announced that the first installation of this new system will be on the dredger 'Thor R' as part of a general refit.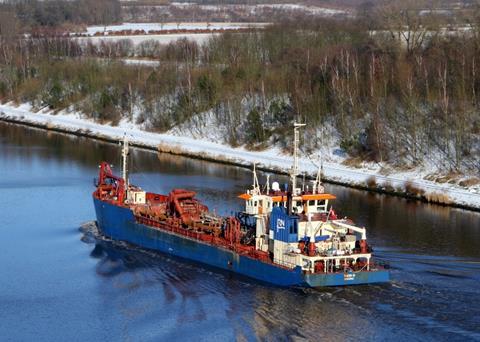 The use of the CP propeller on this hopper dredger will provide a tough testing ground for the new system.
This new CP propeller is unique in being able to have the hydraulic operating system for varying the angle of the blades using water as the operating fluid. According to Mathias Pien, the CEO of Piening Propellers, "By using water we achieve several goals. There is no risk of contamination if there should be a leak in the hydraulic system and unlike hydraulic oils, water is readily available anywhere in the world. Water is non-inflammable and non-toxic so in the event of any leaks the ship should not be involved in any delays and it can overcome any operational restrictions in certain protected waters".
The dredger Thor R is owned and operated by the Danish company Rohde Nielsen. It is a trailing suction hopper dredger capable of operating in water depths of 25 metres. Its length is 84 metres and it is powered by a pair of 1440 kW diesels and currently fitted with CP propellers. These will be replaced by the Piening units in November this year during a refit of the dredger.
The new CP propellers are the first of their kind to use water in the operating system and Piening claims that by using water as the hydraulic fluid they offer a cost-efficient solution using a fluid that is readily available and which can be stocked easily. During extensive testing the wear and tear of the system, has been found to be at a low level.
In order to obtain the DNV approval the testing of the new operating system required over two million pitch adjustment cycles under full power, and one and a half years of in-house development work. Blades can also be mounted to the inside or outside of the new propeller's hub using bolts as required by regulations. A patent has been applied for.
The production units will be available in a range of diameters from 1.5 metres to 6 metres to accommodate engine power outputs of between 500 and 10,000 kW. Currently Piening has DNV approval for four sizes of propeller which can be operated by either water or oil hydraulic systems. The propellers are available with either four of five blades.
Piening see the market for the new CP propellers as ranging from tough working vessels such as the Thor R to naval vessels, cargo ships and mega-yachts. They should be particularly applicable for installation on passenger ferries with their claimed low noise and vibration levels.
By Dag Pike