Being built at home for Germany's Federal Waterways and Shipping Administration (WSV) is its biggest trailing suction hopper dredger to support future operations on the busy River Elbe.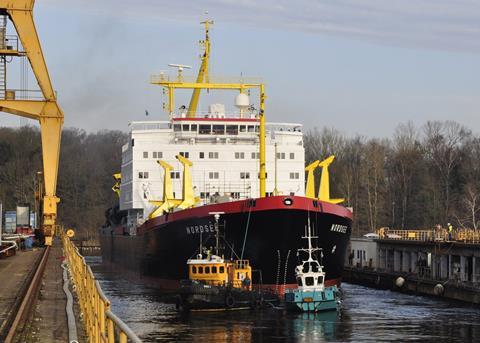 Hamburg's PellaSietas Werft was chosen for the new ship which is costing €95 million. It has been ordered by the Fachstelle Maschinenwesen Nord (FMN) in Rendsburg - the technical arm of the WSV, responsible for the planning, design and development of workboats and ships.
The new dredger will be 132m long, 23.4m wide, draw 6.9m and have a dredging depth of 10-25m. It will load 7,500m3 and have what the WSV and Pella Sietas said was a low-emission and "particularly eco-friendly" diesel-electric drive of 14,000kW output for Elbe tidal operations providing up to 13 knots. No further engine specifications were initially provided.
The newbuilding will however apparently have a much bigger engine output and boast more loading volume than the WSV's only existing big suction dredger, Nordsee. That 131.75m long and 23m wide dredger has a loading volume of 6,100m3 and has been in service since 1978. Its Diesel-electric propulsion comprises two MaK 8M552AK Diesels for a total 7,060kW and a top speed of 11 knots.
The new ship is for delivery in December 2018. That is apparently a tight schedule because the yard itself said the job would be "challenging given the complexity of the ship". It will however undoubtedly benefit from previous experience building suction dredgers when it was the J.J.Sietas Werft..
The newbuilding will see round-the-clock-service with WSV personnel in the tidal waters of the Elbe where "growing ship sizes and draughts are placing ever-increasing demands on waterway maintenance dredging", the WSV said. A survey had found, it added, that it would be advisable in future for the WSV to maintain its own high-capacity trailing suction hopper dredger in addition to Nordsee and alongside the vessels of external firms handling outsourced contracts. In this way the WSV said it would be able to deal more flexibly with demands for differing dredged material volumes.
The new ship could go on stream just at the right time and in the right place if Hamburg were to get the go-ahead for controversial Elbe deepening within a couple of years – as many now believe.
Earlier this year Germany's Federal Administrative Court declared the long-planned deepening along 130 kms between Hamburg and the North Sea could go ahead in principle, but only after revisions and improvements had been incorporated into Hamburg's plans. Maintenance of Germany's waterways is an ongoing government-funded task carried out by or on behalf of the WSV. Maintenance of the North Sea and Baltic Ems, Jade, Weser, Elbe and east German river estuaries involves dredging about 40 million m3 every year.
By Tom Todd