Belgian contractor Jan De Nul's most powerful cutter suction dredger, the 41,346 kW Willem de Rubroeck, has successfully completed its maiden project in Mauritania.
The Willem de Rubroeck was instrumental in delivering the new ARISE port terminal in the harbour at Nouakchott for the northwest African country. The vessel was required to work in large Atlantic Ocean swells dredging hard seabed and also worked near existing port infrastructure in shallow waters. Willem de Rubroeck worked in tandem on this project with Jan De Nul's trailing suction hopper dredger James Cook.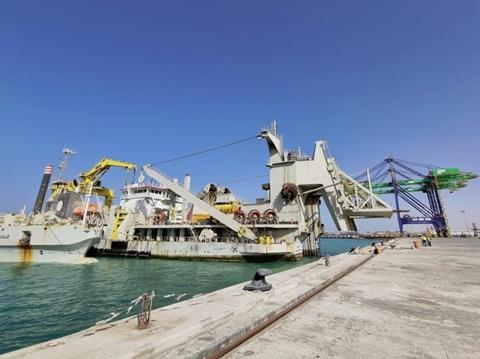 Together the vessels deepened the access channel to the capital city's port, as well as the port basin and alongside at the new ARISE port terminal. Willem de Rubroeck pre-cut the hard seabed which was then dredged by the James Cook with assistance from the barges Pinta, Boussole, L'Aigle, and Le Gurrier. A total of some three million m3 of hard soil was removed.
Willem de Rubroeck was designed to dredge hard, rocky soils in difficult sea and weather conditions which can adversely affect project planning and impact budgets. For a cutter suction dredger to work effectively the spud and cutter head must remain in the same position at all times. Jan De Nul made design adjustments to the spud carrier and the flexible suspension of the Willem de Rubroeck's cutter ladder which allowed for greater movement of the vessel's structure and absorbed vibrations, enabling work to continue in adverse conditions.
The spud carrier travelling cylinder was given a dynamic and active component , meaning the work spud in the spud carrier is suspended by shock absorbers. When forces on the spud become too great, the shock absorbers protect the spuds from becoming overloaded.
The cutter ladder moves up and down with the help of two winches. Unlike most cutter suction dredgers, where the ladder is attached by wire to the ladder gantry, the Willem de Rubroeck's ladder suspension rests on air cushions. Vibrations are absorbed by the air cushions, reducing the risk of damage to the vessel. Willem de Rubroeck is capable of dredging to an impressive depth of 45m.
Pre-planning for the project included geological studies and analysis of long-term average wave conditions at the site to determine the most opportune start time.