Dutch dredging and offshore contractor Royal Boskalis Westminster has reported a strong operational first half of 2020 despite the impact of Covid 19.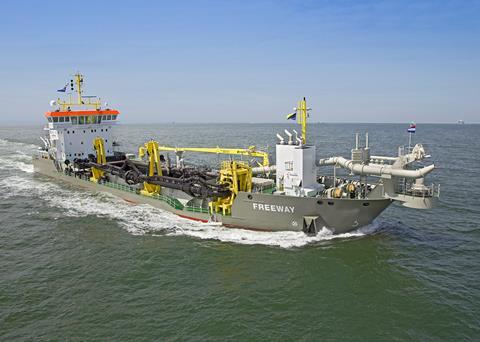 The company posted revenue of €1.3 billion, with a net operating profit of €48 million and an order book standing at €4.7 billion. No significant projects in the order book have been cancelled since the outbreak of Covid 19. The operating result increased sharply compared to last year with revenue at virtually the same level. Boskalis' financial position remains strong and the net cash position of €190 million has improved significantly since the end of 2019.
It has, however, been a challenging first half, particularly keeping dredging projects going outside of Europe due to prolonged travel restrictions and strict quarantine measures. For the Offshore Energy division, services activities were particularly affected by the unexpected and significant drop in the price of oil, resulting in a lack of demand in parts of the market.
Within the Dredging and Inland Infrastructure segment revenue declined mainly due to project start-up delays. The largest revenue contribution came from the Singapore region, the Indian subcontinent and the Middle East. Boskalis Nederland had a strong first half of 2020, with inland infrastructure making a good contribution to the result. The divisional result dropped compared to the same period last year, due in part to Covid 19 related operational disruptions and lower fleet utilisation.
Boskalis CEO Peter Berdowski said:"The first half of 2020 was a rollercoaster in which we pulled out all the stops to steer the company through the Covid 19 crisis. Despite the unprecedented challenging circumstances we achieved an excellent operating result in the first half of the year."
The company's outlook for the remainder of this year expects Dredging and Inland Infrastructure to remain stable with regard to both revenue and result. The currently known operational bottlenecks related to Covid 19 and a persistently competitive market have been taken into account. In the short term, most of the volume of work is in Europe and Asia, with the timing of the start-up and award of new projects being the biggest uncertainty. Projects in the order book ensure that a significant part of the revenue for 2020 has been secured, with an expected virtually stable utilisation of the hopper dredger fleet and lower utilisation of cutter suction dredgers.
By Larz Bourne