Dryad Maritime, which is probably best known as a private security anti-piracy consultancy for shipping has released WxConnect, a new scalable, managed weather forecasting service for ships and fleets. The launch of the service comes as latest figures from the International Union of Marine Insurance show that losses due to weather are on the increase.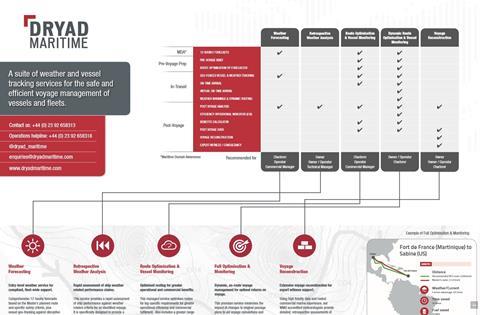 Although Dryad does not state this, many maritime private security companies are also known to be dealing with commercial challenges due to de-escalation of piracy in the Gulf of Aden.
The WxConnect service was designed and developed by Dryad's in-house teams and World Meteorological Organisation accredited meteorologists with significant seagoing experience. WxConnect is offered alongside Dryad's award-winning Vessel Safety Management service to extend tangible safety and operational benefits, whilst minimising burdens for Masters and shore-based teams. In order to provide greater flexibility to clients, the forecasting tool will be offered with no subscription fee, no installation requirements and as a 'Pay As You Go' service, to further drive down costs for users.
Dryad's WxConnect provides a flexible weather support, monitoring and advisory service for ships' masters, helping them mitigate the risks of their transits. All weather forecasts are delivered in simple, easy to understand digital formats that provide access to accurate information and actionable insights, enabling safe passage planning decisions. By delivering this service, Dryad continue their commitment to help their clients improve operational performance, reduce risk and drive efficiency and the provision of SOLAS, whilst reducing overheads and carbon emissions. Dryad Maritime's Chief Operating Officer, Ian Millen: "Ship owners, managers and masters are under ever-increasing pressure to meet various demands and make decisions that provide both commercial and safety benefits.
"Despite our technological age, it is a sad fact that losses attributable to weather have increased in recent years. The world's seas and oceans can be unpredictable and, sometimes, dangerous, as evidenced by the tragic loss of ships and seafarers who work to keep the world fed and the lights on. WxConnect has been designed to help reduce the workloads at sea and ashore, by providing a managed service that gives the right amount of help to those who need it, when they need it; an extension of the award winning maritime security support we have delivered over the years. Just like our risk services, the technology behind WxConnect stays in house, with the service delivered by former mariners, so there's no need to manage software or computers on board ships or in headquarters ashore."
The release of this new weather service comes hot on the heels of Dryad's eagerly anticipated Country Risk Map and its recent receipt of the Queen's Award for Enterprise in the first quarter of 2016.
By Jake Frith