German propulsion provider Schottel has marked up its first reference for a new thruster nozzle in the SDV45 VarioDuct design for a series of three Spanish-built dual-fuel tugs for Norway's Østensjø Rederi.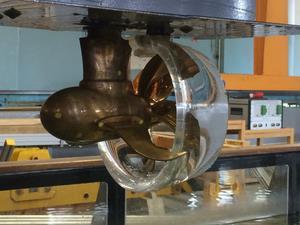 The VarioDuct SDV45 was introduced to the market by Schottel back in May 2016 and this first reference in the Robert Allan Ltd-designed, Astilleros Gondan-built dual-fuel tugs Dux, Pax and Audax can be considered worthy and high-profile recipients for the new components. They are the first LNG-powered dual-fuel tugs ever built in Europe.
The high-performance nozzle is suitable for the complete range of Schottel Rudderpropellers and offers higher efficiency at open-water speed, combined with high bollard pull values. 'Outstanding performance characteristics' are claimed for the nozzles which are used in conjunction with optimally designed propeller geometries. Given the same propulsive power, they have provided a greater bollard pull than previous nozzles while at the same time offering greater efficiency in the medium and high-speed range.
The nozzle was designed using computer-based CFD modelling which was applied for flow simulation. During development, the calculations were used to investigate hundreds of geometry variants to determine the optimum design. The resultant geometry is then tested through model trials to demonstrate the operating characteristics.
The resultant nozzle provides for high-power applications along with reduced fuel consumption and fuel savings up to 10% claimed as being possible at a certain speed, while maintaining a high rate of bollard pull. Additionally, due to the nozzle's relatively small diameter, it is suited for operation in shallow water.
Schottel states the Østensjø trio will not be the only vessels equipped with the new nozzle for long with French Louis Dreyfus Armateurs having ordered a windfarm service operations vessel at Turkey's Cemre Shipyard featuring three Schottel Rudderpropellers with the new nozzles.
It is worth reflecting on the platform for the new nozzles, the dual-fuel series being considered significant deliveries in recent months. The 40m long tugs are powered by twin Wärtsilä 6L34DF main engines, each rated at 3,000kW. Propulsion is provided by Schottel Rudderpropellers Type SRP 630 CP providing a vessel speed of 15 knots. The Bureau Veritas-classed tugs have impressive bollard pull figures of a basic 107 tons. They are intended for indirect escort towing operations and deliver an indirect steering force of 167 tons at 10 knots and braking force exceeding 200 tons. The series are also fitted with Schottel Type STT 170 FP transverse thrusters forward, rated at 250kW. Karmøy supply deck machinery including towing, anchor and mooring winches along with towing pins. Marine gas oil capacity is 313.8m3 along with 30m3 of LNG and the tugs' capabilities include firefighting (class 1) and oil recovery from booms and skimmers.
By Peter Barker