His Royal Highness The Duke Of Kent was welcomed to Griffon Hoverwork accompanies by the HM's Lord-Lieutenant of Hampshire.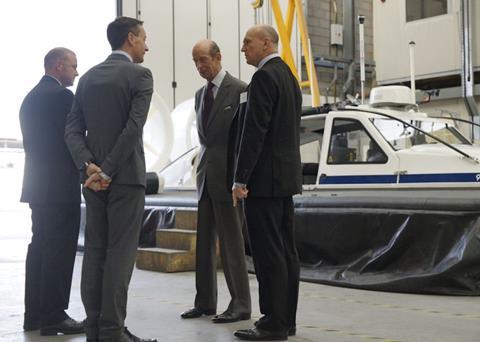 This followed Griffon Hoverwork's recent achievements and successful export of its products worldwide, alongside its continued growth and improvement of industrial skills.
Adrian Went, managing director said: "A visit from the Duke of Kent is rather special to Griffon Hovework."
"His interests bring together much of what the business stands for including; rescue, he is President of RNLI, export, in his Vice Presidency of the predecessor to the Department for International Trade and innovation and engineering in his roles at the Royal Institution and the Royal Academy of Engineering. His insight has been fascinating."
During His Royal Highness' tour of the factory, Griffon demonstrated its newly launched 995ED hybrid hovercraft showcasing the innovative technology behind the new diesel electric hovercraft, a technology demonstrator of UK Engineering.
The new 995ED has a reconfigurable payload of 995Kg or eight passenger seats, it has generation electric motors, inflatable side decks and bonded aluminium manufacturing processes.
By Alice Mason