Spinlock showcased its ultra-lightweight DURO+ lifejacket with GloSpot reflective bladder at Seawork 2019.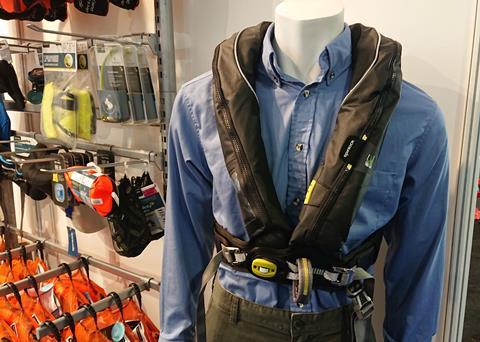 Designed to withstand the demands of tough environments, the DURO+ has 275N buoyancy, extra durable cover materials and a single crotch strap with recessed clip to reduce the risk of snagging.
Doug Vincett, technical sales manager at Spinlock, said: "The DURO+ offers high levels of comfort and fit. It's an ISO 275 approved lifejacket with a safety harness. It can be used by various people, including marine pilots who need to clip onto rail systems.
"The GloSpot fabric is coated in a thermoplastic with microbeads . In the dark when a torch comes across it, the whole lifejacket reflects back at you."
Chest and back adjustments can be made to the one size lifejacket, which has a low profile, compact design featuring a cover window for CO2 cylinder and firing head visual status, and an ID and asset track pocket.
Additional Spinlock features can be added, including the Pylon Light lifejacket light, Lume-On bladder illumination lights, sprayhood, essential packs and a manual firing or AIS MOB1 unit.
By Rebecca Jeffrey