With an official handover ceremony, the Royal Netherlands Navy has completed the process of integrating its three Damen hybrid tugs into service marking a notable milestone in the developing world of 'green' tugs.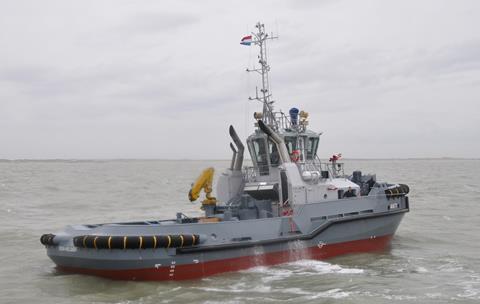 Following earlier pioneering work by a handful of owners, designers and builders, the number of tugs employing more efficient and environmentally friendly propulsion systems is increasing with a growing list of vessels now in operation using hybrid, LNG or dual-fuel power systems.
The Dutch Ministry of Transport has ambitions regarding sustainable operations for the navy and as part of its ongoing fleet renewal programme selected the Damen ASD 2810 tug to replace the aging Linge-class tugs resulting in almost three times the power of the existing vessels. The decision was also made to specify hybrid technology allowing Noordzee, Waddenzee and Zuiderzee to operate under diesel-direct, diesel-electric or fully-electric power.
The increase in the fleet's bollard pull, from 22 tonnes to the 60 tonnes of the new vessels is in line with ensuring the safe and efficient handling of the Royal Netherlands Navy's largest vessels including the HNLMS Johan de Witt, HNLMS Rotterdam and the 204m long Joint Support Ship HNLMS Karel Doorman.
The trio were built at Damen Shipyard Den Helder which will also provide their ongoing maintenance programme, a task traditionally undertaken by the navy itself and the first time Damen has been called upon for ongoing maintenance work for the Dutch Navy for an extended period. The handover ceremony took place at Den Helder Naval Base where the tugs will be based.
Looking at details of the vessels themselves, basic dimensions are: LOA 28.6m, beam OA 10.43m, draught aft 5.15m and tank capacities of 72.3m3 of fuel oil and 14.9m3 fresh water. Performance figures include: bollard pull ahead 60.2 tons (astern 55.3 tons) with three speed figures reported: ahead main engines 13.4kn, ahead generator 8.5kn and ahead using batteries 4kn (one-hour maximum).
Two MTU 16V 4000 M63R main engines develop 3,680bkW (4,935bhp) in total supplemented by an MTU 12V 2000 M41B, 800kVA, 440V-60Hz propulsion genset. Battery packs comprise two sets, each 120kWh. Main propulsion electrical engines comprise two ABB M3LP450 models developing 460bkW total and the propulsion units themselves are two Rolls-Royce US 205 azimuth thrusters with 2,400mm diameter propellers. Auxiliary equipment includes a Caterpillar C4.4 107kVA 230/400V genset and a Jason fire pump is included supplying two 600m3/hr water, 300m3/hr foam monitors.
Electrically-driven, two speed double-drum winches are fitted forward and aft, each with a pull of 35 tons and brake load of 150 tons. Accommodation is provided for seven persons comprising three single and two double cabins all insulated and finished with durable modern linings, floating floors and air conditioned, and finally an acoustical ceiling in the wheelhouse.
By Peter Barker