Scottish Power Renewables is progressing the East Anglia One Offshore Wind farm (offshore UK) with the award of design and construction contracts. This £2.5 billion project is a 50:50 joint venture partnership with Vattenfall Wind Power and was awarded rights to develop wind farms off the coast of East Anglia as part of the Crown Estate''s Round Three programme.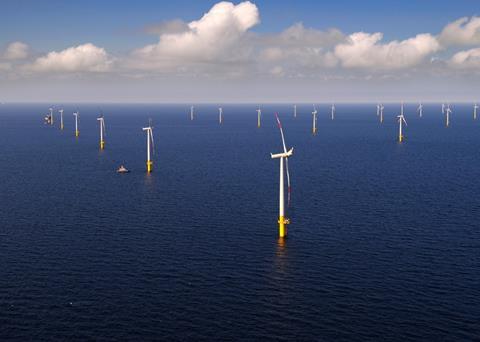 In February 2015, Scottish Power Renewables announced its role in leading East Anglia One towards construction and has since selected Siemens as the preferred wind turbine supplier, in the largest deal of its kind in the UK wind energy sector.
East Anglia One will comprise up to 102 turbines and foundations each rated at 7 MW to give an overall generating capacity of up to 714 MW. Two offshore substation platforms and their foundations will be constructed to collect the electricity from the turbines and transform it to a form suitable for transfer to shore via two export cables, each around 73km in length.
Spanish company Iberdrola will be the main contractor for the installation of the structures and this is the largest project undertaken by this company. The agreement with Iberdrola includes the production of a first batch of 34 jackets for the wind farm. This work has been sub-contracted to Navantia and Windar in a contract worth slightly over €120 million. Navantia will produce 34 state-of-the-art jackets at its shipyard in Fene and Windar will be forging the jacket piles at its facilities in Avilés, both in Spain.
This commission comes just weeks after Navantia and Windar successfully delivered, on time and according to strict quality specifications, 29 jackets and 116 piles for the Wikinger offshore wind farm being built by Iberdrola in the Baltic Sea.
Petrofac has been awarded a contract from Iberdrola to deliver a detailed engineering design scope to support the next stage of the East Anglia One. This is Petrofac's second project on this wind farm development, with its project development group having already completed the basic engineering work for Iberdrola earlier this year.
The new contract scope is being undertaken by Petrofac's detailed design engineers, who will design the offshore substation jacket and foundations in tandem with IEC as it executes the topsides design.
East Anglia One is the third offshore wind project to be undertaken by Iberdrola. West of Duddon Sands (389 MW) is currently in operation in the UK and Wikinger (350 MW) is being built in the German waters of the Baltic Sea. This new offshore initiative is part of an even more ambitious project. Iberdrola has applied for planning consent to build East Anglia Three which has 1,200 MW capacity. If approved, total offshore wind capacity at the East Anglia site could reach 2,000 MW.
By Dag Pike