A ship that has undergone an extensive refurbishment is preparing to support Extreme E's first electric off-road racing series.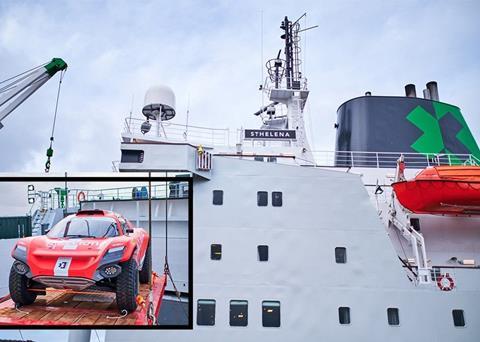 Extreme E secured exclusive use of St Helena, a former Royal Mail ship, in 2018. The ship has been refurbished by Wilson Ship Management at a dry dock at Cammell Laird shipyard in Birkenhead, UK to prepare it for its new role as a floating paddock and base for the Extreme E Championship, taking place between 3 April and 12 December 2021.
This refurbishment included total overhaul of steelwork, engines, generators, propellors, interior and cabin space. St Helena's engines and generators were converted to allow the ship to run on low-sulphur marine diesel rather than heavy marine diesel. The vessel's ability to operate on a single engine at cruise speed further reduces emissions by cutting its fuel consumption.
Championship begins in April
St Helena departed from the Port of Liverpool in February, sailing through the Mediterranean to Saudi Arabia, ahead of the debut Championship race in the country's Alula region.
Resin applications specialist Bolidt supplied outdoor decking for St Helena. The Netherlands-based company installed 240sqm of Bolideck Future Teak on the ship's aft terrace. This is a lightweight, hardwearing and eco-friendly alternative to genuine teak.
With the Extreme E Championship taking place across five remote locations on four continents, St Helena will transport the all-electric SUVs racing in the event – along with the necessary freight and infrastructure – to the ports closest to each site.
By Rebecca Jeffrey