Earlier this year, a collaborative research team based at the engineering consultancy BVG Associates and the University of the Highlands published a new economic impact methodology for the offshore wind industry.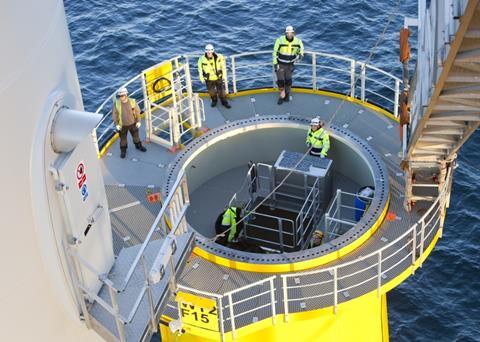 So, what are the main elements of the new methodology? And how might it be used in the future planning of offshore wind projects?
MEASURING JOB CREATION
The main purpose of the white paper, published in January, is to outline a new approach to measuring the broad economic impact - including job creation - of offshore wind. As co-author Alun Roberts, Associate Director at BVG Associates, explains, the typical 'starting point' for measuring such impacts is the expenditure made, either on a component, a project or an entire industry. Although economists typically focus on elements such as direct and indirect impacts to describe the value created by the main contractor and its supply chain respectively, Roberts argues that these terms are 'largely meaningless in the real world' - mainly because they refer solely to the money spent on supplying a product or service.
He also points out that the types of economic 'multipliers' widely employed to estimate the investment impact on total economic activity are typically based on standard industry classification (SIC) codes, which 'haven't yet caught up' the unique nature of the offshore wind supply chain. For example, he highlights the fact that an analysis of UK offshore wind based solely on SIC-codes would tend to reveal that the sector would have a major impact on domestic steel production - even though UK producers are currently limited in their capacity to produce steel types commonly used for offshore wind turbine towers and monopile foundations. Ultimately, this means that modern estimates of economic impact need to foster a 'comprehensive understanding of the supply chain just as much as knowledge of economic models.'
In rising to this challenge, the new methodology adopts a more sophisticated approach by undertaking an additional 'top to bottom assessment' of exactly how much value has been generated in the region or country in question. In doing so, it calculates the total amount of jobs created by asking three key questions: what are typical profit margins in the industry? how much does it cost to employ someone (including business rates, national insurance contributions and pension payments)? and what are the typical salary levels?
"Economists use the term 'induced impacts' to describe the value created as workers' salaries are spent. Calculating these is something of a black art because in practice tracking personnel expenditure is a huge task. Because offshore wind industry workers are unlikely to spend their money differently from anyone else, we can rely on the best published estimates," says Roberts.
EUREKA MOMENT
According to Roberts, the team started modelling the variety of factors relating to job creation several years ago as a 'logical extension' to work focused on identifying the business opportunities in offshore wind. The more the team looked at the approaches previously adopted by specialist economic consultancies, the more it realised they were heavily dependent on what Roberts describes as 'fairly crude assessments of local content' and on 'multipliers derived from government statistics that didn't recognise the offshore wind supply chain.'
For him, the 'eureka moment' came with the realisation that 'all value is created by labour.' This means that once assessors have developed a detailed understanding of exactly how much was spent on a project - and how much of this amount was devoted to salaries for workers, including those based in companies throughout the supply chain - it is relatively straightforward to calculate the overall job numbers.
"We realised that, with our knowledge of the industry, we could make reasonable estimates of these. The result would be a robust analysis that could identify with some precision where the jobs are created," he adds.
"The final piece in the jigsaw was teaming up with Steve Westbrook from the University of the Highlands and Islands. He liked our approach and helped us tackle weaknesses and our terminology. We produced the report partly because we wanted to show that we could improve on methods being used by others and partly because we wanted claims of job creation in offshore wind to be credible," he adds.
ACCURATE AND TRANSPARENT
In Roberts' view, the key benefit of using the methodology for stakeholders in the offshore wind energy sector is the fact that it is 'more accurate, as well as more transparent.' By way of illustrating these advantages, he points out that the assumptions made in relation to costs and salaries can be challenged by 'anyone with a knowledge of the industry' - in the process helping to 'build confidence in the numbers.'
"Once you have this, governments can make rational judgements on what investments bring the greatest economic returns and, crucially, where. Offshore wind might not create more jobs per pound invested than another [industry], but it can create them where they are desperately needed, in areas such as the Humber region," he says.
Roberts also points out that the team has developed a related methodology focused on measuring the UK 'content' in offshore wind farms, which he reveals is already being used by developers to report to the industry association RenewableUK.
"Because it is accepted by the industry, the results are consistent and comparable. Adopting this new economic impact methodology can achieve this also and for a wider range of economic indicators," he says.
"We would also like to see a consistent approach with other energy sectors. If everyone used the same approach, more informed decisions can be made on the economic benefits of different sectors, instead of hurling out ever bigger numbers aimed at impressing increasingly sceptical politicians," he adds.
By Andrew Williams