Liebherr is delivering efficient electric cranes to Puerto Rico which will be used to load and discharge containerised cargo aboard Crowley's two new LNG powered Con-Ro ships.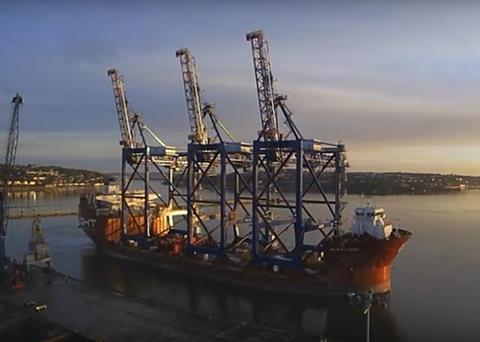 These three new, ship-to-shore container cranes manufactured in Ireland by Liebherr and assembled in Cork Harbour, are scheduled for delivery to Crowley Puerto Rico Services' Isla Grande Terminal in San Juan in late March.
John Hourihan Jr, senior vice president and general manager, Puerto Rico Services, Crowley, said: "With these state-of-the-art cranes now erected, we are taking another step toward the transformation of our terminal into the most modern and efficient port facility on the island of Puerto Rico. We eagerly await their arrival here."
The cranes will be transported to San Juan by the Overseas Heavy Transport (OHT) vessel Albatross, which transferred from Cork Dockyard to the Port of Cork's Deepwater berth in Ringaskiddy to take on ballast before departure.
Each 900 tonne crane has a capacity of 65 tonnes and measure approximately 65 metres tall, with an outreach of 40 metres.
The Port of Cork has a long-standing relationship with Liebherr Cranes.
Captain Michael McCarthy, commercial manager, Port of Cork, said: "We have had an excellent relationship with Liebherr since the early 1990's when we commissioned two cranes for our facility in Ringaskiddy."
"Since then we have grown our relationship with the company and all our port cranes are manufactured by Liebherr."
By Anne-Marie Causer