A commuter ferry powered by a pair of 8kW electric motors could provide a carbon neutral alternative to building an expensive new bridge writes Dag Pike.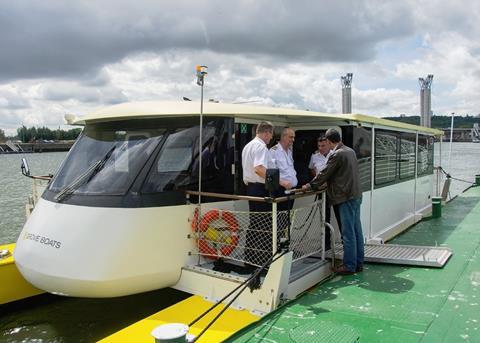 Electric boats specialists Grove Boats has supplied a solar powered catamaran ferry for operation on the River Seine in Rouen. This carbon neutral project is aimed primarily at providing a commuter service across the river where it will operate on a continuous basis with less frequent crossings at quieter times. The ferry has been operating since July of 2019 and is scheduled to cease operations later this year to allow an assessment to be made of the viability of the operation as a substitute for building a new bridge across the river which would be a major project.
The boat that has been supplied by Grove Boats is the one that was originally supplied by Grove for use at a major exhibition in Spain. Since her time at that exhibition the boat has been operating a variety of services as a carbon neutral shuttle in Paris and sightseeing boat in Lille, near Lyon in France. Now named Felix de Azara this 16 metre long catamaran design is based on the same concept as the Sun21 which was the first solar powered boat to have crossed the Atlantic entirely by solar energy back in 2008.
The Felix de Azara is powered by a pair of 8kW electric motors and these in turn are supplied with electricity from 50 sq metres of solar panels that are mounted on the roof of the passenger cabin giving 9 hours of autonomy. International energy company Engie, which is also a key sponsor of the zero emission Energy Observer hydrogen ship, is responsible for the solar electric energy management systems on board the Felix de Azara.
The boat has a capacity of 60 people and the crossing across the river takes between 6 and 7 minutes. Transdev Mobility, an international company that manages a large number of ferries, river shuttles and other marine transit options in five countries, is coordinating the operation and the scheduling of the service
Grove Boats is a design company that is based in Switzerland and they have been working on the development of electric boats for many years. Their designs are built by boatyards in various European countries and they have also developed specialised craft for harbour debris recovery.