US-owned marine electronics specialist Raymarine has showcased all the latest additions to its existing multi award winning range of marine electronics at Seawork International 2016, with products to suit all craft from small RIBs to offshore workboats.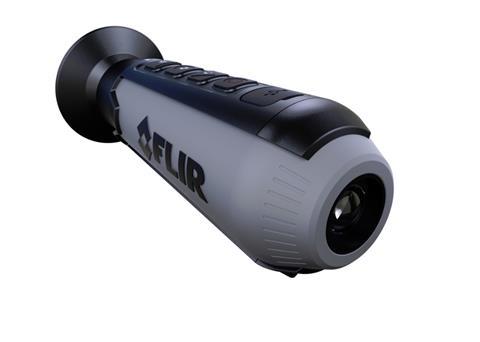 Stars of the show were the range of thermal cameras, embracing FLIR's (Raymarine's parent company) industry-leading thermal imaging technology including the latest addition to the thermal camera range the very reasonably priced new FLIR Ocean Scout TK marine thermal camera.
It reveals the heat of vessels, buoys, obstacles and people in the water day and night. It is the lightest and most affordable marine thermal camera you can have on board at £495 (inc VAT).
The New FLIR AX8 recently won the 2016 Innovation award at Miami International Boat Show. This Marine Thermal Monitoring System gives skippers an entirely new view of their vessel's mechanical system. Using patented MSX technology, the AX8 combines thermal and visible cameras to allow skippers to keep an eye on critical equipment such as engines, exhaust manifolds, and more. The AX8 integrates with the Raymarine multifunction displays and sends audible and visual alerts.
Also on show was the Pan-Tilt-Zoom Thermal Night vision camera capable of linking to radar and AIS and the award winning Raymarine Evolution autopilot, recognised for its accurate performance, 9-axis sensor technology and simple Automagic calibration.
If you are looking for a compact, powerful yet low consumption radar then the New Raymarine Quantum CHIRP Wireless Radar launched at the London Boat show could be your solution. This new radar is the smallest, lightest and lowest power radar of its kind on the market. Quantum has several important new innovations including a solid-state signal generator (no magnetron, and as such, lower emissions and instant power-on), CHIRP pulse compression technology (excellent long and short range performance), FLIR's exclusive ATX signal processing (superior target separation) and wireless connectivity (easy installation and very thin/flexible cabling).
A comprehensive range of Raymarine's Navigation MFDs was also at Seawork, including the state of the art gS series 19 inch MFDs along side a range of screen sizes down to a compact and efficient 6 inch screen – all with Raymarine Lighthouse II software.
The latest Raymarine range of VHF Marine Radios, including the new Raymarine Ray52 Compact VHF Radio with built-in GPS receiver were also available to view.
By Jake Frith